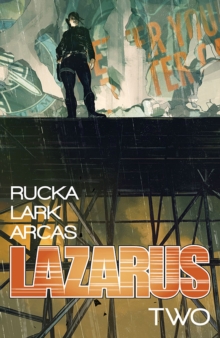 Lazarus : Lift Lift volume 2
Paperback
Description
"Rucka's ability to write concise and targeted dialogue is on display as his characters show intense emotion through their chosen words.
Lark complements the story in almost uncanny ways as his realistic and gritty style paints the stark world in blacks and browns.
Fans of Rucka and Lark's earlier work (Gotham Central) should lift this book right off the shelf." -Booklist While Forever keeps watch on her sister Johanna, she finds hints of rebellion brewing in LA.
At the same time, the Barrets, a family of "Waste," lose their home and land, and must pursue their only chance for a better life - a 500-mile journey to Denver in the hope that one of their family will be noticed by the Carlyles and "lifted" to Serf status.
Collecting all five issues of "Lift," the second story arc in the New York Times best-selling series
Information
Format: Paperback
Pages: 104 pages, chiefly Illustrations (colour)
Publisher: Image Comics
Publication Date: 12/08/2014
Category: Science fiction
ISBN: 9781607068716
Free Home Delivery
on all orders
Pick up orders
from local bookshops
Reviews
Showing 1 - 3 of 3 reviews.
Review by DanieXJ
16/06/2015
Another great TPB in the Lazarus series by Greg Rucka (okay, so there have only --been-- two so far, but both of them have been great, so I stick by my statement).Forever is still kicking some serious butt, although at the beginning we do see the softer side of her. But, we start with her going after a group called The Free, who seem to be a terrorist group who want to destroy the current world's structure (i.e. the families, serfs, and waste structure that exists). At the same time there's a big storm and tons of flooding in the Carlyle territory and a couple of farmers (who are Waste), Bobbi and Joe, lose their farm. So, they, their family, and a close family friend travel five hundred miles to Denver to try and get 'Lifted' to serf status.We also got to see Forever in the past as a young kid who is training to become her family's protector. And her father during these scenes is just as multi-layered as he has been previously. All the characters were written that way, and it's still very cool. As an aside I also really liked the character of Marisol. All in all, a great TPB.I got this advanced galley through Netgalley on behalf of Image Comics and Diamond Book Distributors.
Review by ElizaJane
16/06/2015
Awesome, awesome, awesome. Probably the best comic of the year! I'll keep this short or else I'll just end up gushing. This is a dystopian tale that is totally believable making it all that much more exciting. Reads like a spy story with a gripping plot and unexpected ending. The art is fantastic too. I'm addicted to Lazarus! Can't wait to see where it goes from here.
Review by questbird
16/06/2015
A moody dystopic piece of a future world where a few families control vast territories. Their family retainers are serfs; everyone else is Waste. Forever Carlyle is a warrior and protector of the Carlyle family. She is a kick-ass ninja/samurai. In this story she discovers a terrorist plot to bomb the 'Lift', a mass testing convention organised by the Carlyles to 'lift' eligible Waste persons into serfdom. The story is well done and drawn, contrasting Forever's investigations with the travails the Barrets, a Waste family journeying to the Lift with nothing to lose. I will seek out the first in the series after this.