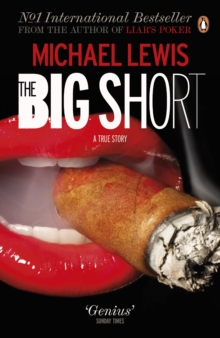 The Big Short : Inside the Doomsday Machine
Paperback
Description
From the jungles of the trading floor to the casinos of Las Vegas, The Big Short, Michael Lewis' No.1 bestseller, tells the outrageous story of the misfits, renegades and visionaries who saw that the biggest credit bubble of all time was about to burst, bet against the banking system - and made a killing. "In the hands of Michael Lewis, anything is possible...if you want to know how a nation lost its financial mind - and have a good laugh finding out - this is the book to read." (Sunday Times). "Magnificent...a perfect storm of brilliant writer meeting big subject." (Guardian). "A triumph...riveting...The Big Short reads like a thriller." (The Times). "A terrifying story, superbly well told." (Daily Telegraph). "A rollicking good yarn." (Financial Times). "Probably the single best piece of financial journalism ever written."(Reuters).
Information
Format: Paperback
Pages: 288 pages
Publisher: Penguin Books Ltd
Publication Date: 27/01/2011
Category: Finance
ISBN: 9780141043531
Free Home Delivery
on all orders
Pick up orders
from local bookshops
Reviews
Showing 1 - 2 of 2 reviews.
Review by alexrichman
16/06/2015
A masterful book on the subprime mortgage disaster. Some critics have pointed out that the timing was a little off - published too late to be the definitive book of the crash (surely Too Big To Fail), but too early to include the aftermath of the Treasury Select Committee - yet this doesn't diminish the excellence of all those stories about the Cassandras who saw it all coming.
Review by TLievens
16/06/2015
The book tells the tale of a few visionairies who used their common sense to spot that something was going terribly wrong with the subprime mortgage loans. They succeeded to persist and stick to their ideas while the rest of the financial world was clearly blind for the insanity of the ABS and CDO instruments. Independently from each other, a couple of people analysed the situation and came to the conclusion that lending to people who cannot afford it and using those loans to create a segment of the financial industry based on the premise that all would continue to go well and up, would in the end result in disaster sooner or later. While doing their research, they spoke to many in the industry: from CEO's of banks to rating agencies to hedge fund managers and investment bankers, asking what could be possible wrong with their analysis. Although no-one could answer, no-one would listen to them and continue to build the mirage (and make money in the process). The author succeeds in explaining clearly the frustration that must have caused to the protagonists.The book also gives a good overview of sheer magnitude of the subprime industry and thus explains its importance for investments banks financial results.