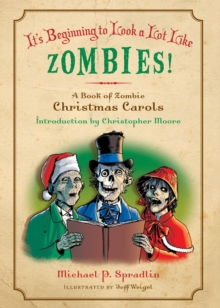 It's Beginning to Look a Lot Like Zombies: A Book of Zombie Christmas Ca
Paperback
Description
This book takes over two dozen of our most beloved Christmas carols and shreds them limb from limb, rewriting them from a zombie's point-of-view.
Tiny tots' eyes are no longer aglow - they're in a bowl. And Mommy's not kissing Santa under the mistletoe - she's chewing his face.
Nobody - not Rudolph, Old Saint Nick, or even those three Wise Guys who traveled afar - is spared when the undead come knocking.
Information
Format: Paperback
Pages: 96 pages
Publisher: HarperCollins Publishers Inc
Publication Date: 01/11/2009
Category: Parodies & spoofs
ISBN: 9780061956430
Free Home Delivery
on all orders
Pick up orders
from local bookshops
Reviews
Showing 1 - 5 of 7 reviews.
Previous | Next
Review by sagustocox
16/06/2015
The holidays are a time for merriment and getting together with family and friends to celebrate and share. Part of the holidays has always included caroling, at least for some people. My husband and I love to sing, though we don't sing well, but we like to make up lyrics from time to time. <i>It's Beginning to Look a Lot Like Zombies!</i> by Michael P. Spradlin and illustrated by Jeff Weigel is the perfect collection of remastered Christmas Carols to liven up the holidays. There's even an introduction by the witty and dark humored Christopher Moore.First, can you tell what classic novel this line's beginning resembles?<i>"It is universally acknowledged that there are very few literarypursuits which cannot be improved with the addition of zombies, which are to the written word as cheesy goldfish crackers are to life in general; those little cheesy goldfish crackers also improve nearly everything." (Page VII)</i>Christopher Moore certainly has a unique perspective on literature and how it can be improved, but in the case of the zombie Christmas carol book, he may be correct. Spradlin's lines are well placed and maintain the rhythm of the original carols. Family members young and old will love to sing to these revised songs -- from It's Beginning to Look a Lot Like Christmas, I mean, It's Beginning to Look a Lot Like Zombies to Deck the Halls With Boughs of Holly, oops I mean, Deck the Halls With Parts of Wally.<i>Zombie, the Snowman (Page 39)Zombie the Snowman was a jolly, happy ghoul,With a corncob pipe and some boy's noseAnd two eyes he got at school.Zombie the Snowman is a fairy tale, they say;He was undead, it's so,But the children know how he came back to life one day.There must have been a virus inThat old silk hat they found,For when they placed it on his head,He began to dance around.Oh, Zombie the Snowman was alive as he could be,And the children say he ate brains all day,And they ran from that Zombie.Thumpety, thump thump,Thumpety, thump thump,Look at Zombie go.Thumpety, thump thump,Thumpety, thump thump, Over the hills of snow.Zombie the Snowman knew the brains were fresh that day,So he said, "Please run, because it's lots more fun when I eat your brain that way."Down through the village with a femur in his hand,Running here and there all around the square,Sayin', "Decapitate me if you can!" He chased them through the streets of town And at a traffic cop,And he barely paused a moment when he heard the cop's brain pop!Zombie the SnowmanHad to hurry on his way,But he waved good-bye, sayin', "Please do cry,I'll eat your brains someday!"</i>At a short 81 pages, <i>It's Beginning to Look a Lot Like Zombies!</i> is a fun read and will have you giggling and guffawing and singing. Chock full of gruesome and surreal drawings of zombies in Santa Claus suits and other holiday outfits are eye-catching, and add additional verve to the carols. This humorous Christmas carol book would make a great stocking stuffer and an after-holiday gift. Heck, it would just be a fun gift for birthdays, anniversaries, and any other occasion.
Review by andreablythe
16/06/2015
Just as the title says, this is a collection of carols for the undead and lovers of the undead. The title alone caused me to laugh out loud, but the book itself was even more fun. The instant reaction, of my friends and family, as well as myself, upon picking up this book was to either break into song, or to try to get someone else to break into song. Each zombie carol lets you know which accompanying song it's meant to be in the tune of. For example, "Zombie Yells" is sung with the tune of "Jingle Bells" and so forth. It was fairly easy to pick up and keep the correct tune. Though there were definitely some lines that were forced to fit the tune and rhyme scheme, so that the line didn't make sense or the singer had to stumble a bit, but for the most Spradlin did a good job of matching the correct lines to the song. I really only wish that I had received this gift before Christmas so that I could have initiated some zombie caroling on the holiday itself.
Review by Kellswitch
16/06/2015
Received this as a Christmas gift and my friends and I started singing songs from it right away. Not the most in depth of books but I enjoyed the conceit of the zombies and thought they did a great job of integrating them into the carols, and the art matched perfectly, sufficiently ghoulish but with the right touch of fun.
Review by ThothJ
27/01/2016
Hilarious! A must for the post-Apocalypse holiday season.
Review by ThothJ
27/01/2016
Hilarious! A must for the post-Apocalypse holiday season.