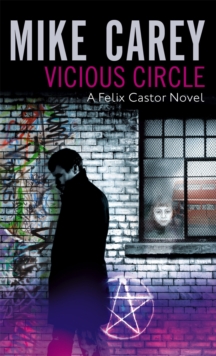 Vicious Circle : A Felix Castor Novel, vol 2
Paperback
Description
Castor has reluctantly returned to exorcism after the case of the Bonnington Archive ghost convinced him that he really can do some good with his abilities ('good', of course, being a relative term when dealing with the undead).
But his friend, Rafi, is still possessed; the succubus, Ajulutsikael (Juliet to her friends), still technically has a contract on him; and he's still - let's not beat around the bush - dirt poor.Doing some consulting for the local constabulary helps pay the bills, but Castor needs a big, private job to really fill the hole in his overdraft.
That's what he needs. What he gets, good fortune and Castor not being on speaking terms, is a seemingly insignificant 'missing ghost' case that inexorably drags himself and his loved ones into the middle of a horrific plot to raise one of Hell's fiercest demons.And when Satanists, sacrifice farms, stolen spirits and possessed churches all appear on the same police report, the name of Felix Castor can't be too far behind . . .
Information
Format: Paperback
Pages: 512 pages
Publisher: Little, Brown Book Group
Publication Date: 29/09/2006
Category: Horror & ghost stories
ISBN: 9781841494142
Free Home Delivery
on all orders
Pick up orders
from local bookshops
Reviews
Showing 1 - 4 of 4 reviews.
Review by defrog
16/06/2015
Second of a series featuring an British exorcist at a time when the dead are hauting the earth ingrowing numbers. Pretty good -- not quite as tight as the first one, with the plot meandering a bit, but a good tale and some solid characters. The third one's out now, I hear. Count me in.
Review by wyvernfriend
16/06/2015
Felix is back to exorcism. He's also back in trouble, this time someone wants to raise a demon from hell. However Felix is determined to get in the way.It's Felix Castor, his life is miserable and then it gets worse and it's entertaining. I enjoy the stories and how he gets himself out of trouble
Review by AussiePenMan
16/06/2015
Part way through this book I was getting a bit bogged down with the internal monologue of the protagonist - I was a little concerned there was not going to be much solid story to go with it. But persistence paid off and the story picked up, concluding with a thrilling finish equal to The Devil You Know.One of the things I like about Carey's writing is his use of language. He doesn't overuse metaphors and manages to convey ideas and thoughts very effectively.
Review by blatherlikeme
16/06/2015
I was sort of luke warm about the first in this Fix Castor Series. I enjoyed this book more. <br/><br/>This plot is definitely tighter than the first, but its not overly clean in that it contains quite a few gaps as regards police technique and some faulty logic in the mystery itself. But I don't let those details bother me too much if I'm enjoying the story. And normally, I don't notice them, so since I did, they're gonna be glaring to those of you who are sticklers about that sort of thing. <br/><br/>Somewhat disappointing to me, it has a lot less "British" English and is more generic than the first and therefore easier to read. This is probably a big plus for most people. I'm weird about learning new words. <br/><br/>Fix is getting a bit more developed. But there are some inconsistencies between the first and second book. Which is natural, I suppose. And Carey certainly isn't the first person to alter a persona to fit in better with what he envisions for his world. I only had one issue with the changes. Juliet. <br/><br/>She returns as a good guy. It would be far better if she was not quite so suddenly good, if she was edgier and more complicated. If he had allowed more room for her to evolve over a series of books. It would also be good if Fix was not so willing to forget the part where he was nearly sucked up her vagina for soul food. There is no tension now in Fix's interest in Juliet. It seems more like harmless lust, despite his watered down references to her dangerous side, you don't really think of her sexuality as dangerous anymore. <br/><br/>On the positive side is the action is fairly fast. Fix's constant state of being embattled and dogged is endearing.
Also in the Felix Castor Novel series | View all