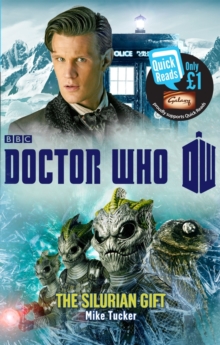 Doctor Who: The Silurian Gift
Paperback
Description
'My new Fire-Ice will solve all the problems of the planet!' The world is on the brink of crisis.
As fuel runs short, society begins to break down. One man seems to have the answer. But is it too good to be true? The Doctor arrives at an old oil refinery near the South Pole, concerned by claims about this new form of energy.
He soon discovers something huge and terrifying is stalking the refinery.
It brings death and destruction in its wake. The battle has begun for planet Earth. A thrilling, all-new adventure, featuring "The Doctor" as played by Matt Smith in the spectacular hit series from BBC Television.
Information
Format: Paperback
Pages: 112 pages
Publisher: Ebury Publishing
Publication Date: 01/02/2013
Category: Science fiction
ISBN: 9781849905589
Free Home Delivery
on all orders
Pick up orders
from local bookshops
Reviews
Showing 1 - 2 of 2 reviews.
Review by m_k_m
16/06/2015
Another annual burst of "Doctor Who" action from the Quick Reads initiative. The Silurians are this year's returning monsters. Though they've arguably got one of the best premises of any "Who" villain, it means most of their stories have the same basic shape. "The Silurian Gift" isn't much different, with only the Antarctic setting and the return of the Silurian's classic series cousins the Sea Devils and Myrkas to mark it out. Still, the "Quick Reads" target readership will probably be less familiar with the tropes than hardcore "Who" fans, and they'll find some solid if unexceptional fun. Not bad for a quid.
Review by PaulBaldowski
16/06/2015
Fitting in with the current storyline of a companionless Doctor - he finds himself in the South Pole at the site of a refinery producing barrels of Fire Ice, a new revolutionary fuel source. Along for the ride, Liz claims to be a journalist, but her intentions seem to be to deceive everyone, including the Time Lord.<br/><br/>A simple tale of Silurians, greed, and environmental disaster - this is a straight forward and entertaining tale suited to young fans of Doctor Who. Nothing too original here - but with at least one nod for fans of classic Who that makes it a fine little read for adult fans.