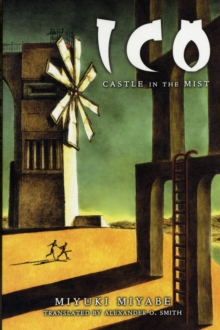 Description
The Castle of the Mist calls for a sacrifice: a horned child, born once a generation.
When, on a single night in his thirteenth year, Ico's horns grew long and curved, he knew his time had come.
But why does the Castle of the Mist demnd this offering, andcan the castle keep Ico's destiny from intertwining with that of the girl imprisioned within his walls?
Information
Format: Paperback
Pages: 400 pages
Publisher: Viz Media, Subs. of Shogakukan Inc
Publication Date: 15/09/2011
Category: Fantasy
ISBN: 9781421540634
Free Home Delivery
on all orders
Pick up orders
from local bookshops
Reviews
Showing 1 - 4 of 4 reviews.
Review by snorer2
16/06/2015
As a video game fan I am always intrigued when video game novelisations are released, as there are very few of them, and even fewer that are any good. It is difficult to capture the spirit of a video game in written form, and Ico is perhaps the most ambitious video game to novelise due to it's lack of story and abstract style. I have played the video game and can't say I was particularly enthralled by it, however I was interested to see how somebody could make a game with virtually no dialogue into a 250-page novel. I liked the authors style of writing, and thought that the translation was excellent, though sometimes a little disjointed in places. I was confused by the novel as a whole, as sometimes the author spent a long time describing exact elements of gameplay (climbing ladders, pulling levers etc) to veering into the realms of a full novel and painting an entirely fictional backstory. I found the backstory elements far more exciting than the gameplay description, namely because the author uses her imagination to paint up the gaps in the story of the video game. Suddenly things seemed to make a lot more sense. However, on the whole I felt like there was something missing in the story. I also found the structure extremely banal - particularly towards the end with the inevitable battle where good triumphs over evil. An interesting adaptation, thought not sure if my knowledge of the original video game helped or hampered my understanding of this novelisation.
Review by Eurekas
16/06/2015
Surrealistic story about a 13 year old boy named Ico who was born with horns. Because of this he is sacrificed to the Castle in the Mist. His best friend Toto would like to go with him but has no idea of what happens to the sacrifices and why they are being sacrificed. Ico has some idea, having been shown the stone city, he knows what can happen if the Castle gets angry. Toto runs away and goes into the stone city where he finds the Book of Light and brings it back. This changes everything. Ico's adoptive parents make a new "Mark" for him using a design from the Book of Light and Ico is taken to be sacrificed. Unlike all of the other sacrifices Ico tries to rescue Yorda, the daughter of the witch who controls the Castle in the Mist. There begins a remarkable journey in which the story of how the sacrifices came to be and Yorda's story entwine. Beautifully written, sumptuous prose. This story uses the Play Station 2 game Ico as its base.
Review by Kurt.Rocourt
16/06/2015
Great book, very engrossing.
Review by cendri
16/06/2015
This is a wonderful companion to a wonderful game. I was pleased to see that some of Yorda's backstory was in this! I'd always wanted to hear her POV in the game, so to see it in the novel was lovely.<br/><br/>Some people may be put off by the format, but I thought it was meandering and dreamy, much like the game itself, so it really worked well. Plus it was originally serialized. <br/><br/>This hit my heart in the right place, like the game, what a wonderful novelization.