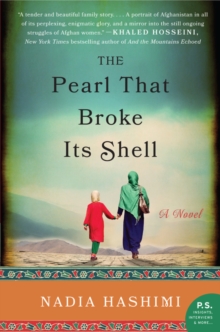 The Pearl That Broke Its Shell: A Novel
Paperback
Description
Afghan-American Nadia Hashimi's literary debut novel is a searing tale of powerlessness, fate, and the freedom to control one's own fate that combines the cultural flavor and emotional resonance of the works of Khaled Hosseini, Jhumpa Lahiri, and Lisa See. In Kabul, 2007, with a drug-addicted father and no brothers, Rahima and her sisters can only sporadically attend school, and can rarely leave the house.
Their only hope lies in the ancient custom of bacha posh, which allows young Rahima to dress and be treated as a boy until she is of marriageable age.
As a son, she can attend school, go to the market, and chaperone her older sisters. But Rahima is not the first in her family to adopt this unusual custom.
A century earlier, her great-great grandmother, Shekiba, left orphaned by an epidemic, saved herself and built a new life the same way. Crisscrossing in time, The Pearl the Broke Its Shell interweaves the tales of these two women separated by a century who share similar destinies.
But what will happen once Rahima is of marriageable age?
Will Shekiba always live as a man? And if Rahima cannot adapt to life as a bride, how will she survive?
Information
Format: Paperback
Pages: 480 pages
Publisher: HarperCollins Publishers Inc
Publication Date: 05/01/2015
ISBN: 9780062244765
Free Home Delivery
on all orders
Pick up orders
from local bookshops
Reviews
Showing 1 - 5 of 6 reviews.
Previous | Next
Review by TooBusyReading
16/06/2015
"Who could have known that Shekiba would become the name she was given, a gift passed from one hand to another? Shekiba was born at the turn of the twentieth century, in an Afghanistan eyed lasciviously by Russia and Britain. Each would take turns promising to protect the borders they had just invaded, like a pedophile who professes to love his victim."Rahima, in a family of daughters, becomes Rahim, a bacha posh, knowing the freedoms that come with appearing to be a boy. Her deformed, and thus unmarried aunt, tells her just bit by bit of another ancestor, Shekiba, also deformed, and of her life."I was and then I wasn't. I was Rahima. And then I wasn't."There is very little kindness to be found in this novel, and much cruelty. Almost without exception, the men behave as monsters, freely beating and demeaning the women over whom they have complete power. The women take what little power they can by being cruel to one another and manipulative. It's a train wreck I couldn't turn away from.There is also hope, tiny little glimmers of hope. Unfortunately, we all know how that is progressing.While this is a story about the characters, it is also a story of a country and a culture, and I appreciated the historical aspect of it. The writing was well done, descriptive without being flowery. I found it a bit distracting that one character was first person narrative, and then in the same chapter, would switch to third person. And that the reader was told what was in the minds of so many different characters rather than sticking with a point of view.Altogether, the novel was both beautiful and heartbreaking."This life is difficult. We lose fathers, brothers, mothers, songbirds and pieces of ourselves. Whips strike the innocent, honors go to the guilty, and there is too much loneliness. I would be a fool to pray for my children to escape all of that. Ask for too much and it might actually turn out worse. But I can pray for small things, like fertile fields, a mother's love, a child's smile – a life that's less bitter than sweet."I was given an advance readers copy of this book for review and the quotes may have changed in the published edition. 4.5 out of 5 stars.
Review by jtsolakos
16/06/2015
The Pearl that Broke Its Shell is a difficult book to read due to its subject matter, but a lovely and lyrical read. With the two main characters from different generations, we find that although there had been change in Afghanistan, things seemed to return to the way they were years ago. Such disgusting treatment of women. How the author could make this difficult situation into such an interesting and readable book is astounding. I look forward to her next novel.
Review by fiverivers
27/08/2015
Nadia Hashimi's The Pearl that Broke Its Shell is a devastating lens on the horrors of being a woman in Afghanistan, plain and simple. Not the sort of novel one picks up for a light afternoon read, Hashimi, while retaining literary integrity, reveals the myriad daily, devastating details of the absolute subjugation, ownership and commodification of the female sex within this patriarchal, warlord society which is governed by a bastardization of Islam. The novel is relentless. Hashimi employs a simple narrative style, without embellishment, allowing actions to carry her message. Her characterization is very strong. Her environmental detail is seamless, weaving into the narrative without arresting pauses.Altogether a novel you should read if for no other reason than to expand your understanding of a culture alien and frightening to Western thinking.
Review by Pattymclpn
27/08/2015
This is an incredible book wich parallels the life of two remarkable Afghani girls. One in the past and one in the present. It is an artfully told tale of the lives and difficulties of women and their treatment in Afghanistan. It is clear by this book that it is a better life and easier to be a boy than a girl. While improvements have come about over the years Rahima's life is still not an easy one and carries its own set of problems and hardships. It is no picnic to be a woman in the middle east with no rights. It is difficult to remember that this is still going on in the present day world!! This is an interesting addition to the Middle East fiction that is out there today. It adds a new voice to the sad tales that already exist.I found this to be well written and executed and the story traveled seamlessly back and forth from the present to the past. I hope that we can look forward to more novels from this writer!! What a great debut!! I give this book a 4 out of 5 stars.
Review by scot2
27/08/2015
I loved this book. It is about two women who were strong enough to withstand the harsh treatment meted out to females, not only by men, but also by other women in the husband's family. They discovered that, with effort, they could change their lives. Actually make that three women as the aunt of Rahima is also a very strong woman in a country where females were thought to be inferior. A delightful, sad, uplifting story.