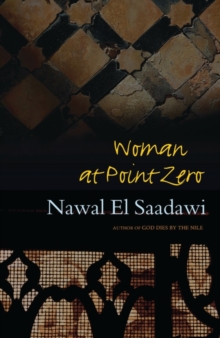 Woman at Point Zero
Paperback
Description
'All the men I did get to know, every single man of them, has filled me with but one desire: to lift my hand and bring it smashing down on his face.
But because I am a woman I have never had the courage to lift my hand. And because I am a prostitute, I hid my fear under layers of make-up'.
So begins Firdaus' story, leading to her grimy Cairo prison cell, where she welcomes her death sentence as a relief from her pain and suffering.
Born to a peasant family in the Egyptian countryside, Firdaus suffers a childhood of cruelty and neglect.
Her passion for education is ignored by her family, and on leaving school she is forced to marry a much older man.
Following her escapes from violent relationships, she finally meets Sharifa who tells her that 'A man does not know a woman's value...the higher you price yourself the more he will realise what you are really worth' and leads her into a life of prostitution.
Desperate and alone, she takes drastic action.
Information
Format: Paperback
Pages: 126 pages
Publisher: Zed Books Ltd
Publication Date: 22/06/2007
ISBN: 9781842778739
Free Home Delivery
on all orders
Pick up orders
from local bookshops
Reviews
Showing 1 - 3 of 3 reviews.
Review by tmostman
16/06/2015
I absolutely loved it. It's about Firdaus, a woman who is one death-row in Egypt and is going to die in a week for killing a pimp. She was born to parents who didn't love her and given to her uncle who sexually abused her. Then married off to an old widow who abused her more. Each relationship started out with her trusting them and in the end they treated her awfully. After her husband rapes her she decides to own her body and decide who she's going to give it to. So, she becomes a prostitute. She denies men she wants to deny and gets great satisfaction from it, as no woman is ever supposed to tell a man "no." She becomes very sucessful, owns her own apartment and nice things. After a few years, she decides to work at a factory and she hated the job, thought it incredibly oppressive and went back to being a prostitute. She said, "these women are more afraid of losing their job than a prostitute is of losing her life." How can someone be free with that kind of fear.and I came to the conclusion that all the women in the book are prostitutes in some way. They all belonged to a man; their father, their husband, their boss, etc. Except Firdaus, the real prostitute, who is incredibly liberated and owns herself and demands a high price for her body. Other women are doing what she does for free and getting beaten for it, can't ever say no, can't own anything for themselves, can't own their own bodies.And I don't know how I feel about it. Obviously it's a militant feminist message, obviously man-hating, but I thought the idea was interesting. The book was incredibly cynical and felt like shit after I read it, there was no hope about it, but it was a great book and I will be reading more from her.
Review by PilgrimJess
16/06/2015
"I KNEW THAT MY PROFESSION HAD BEEN INVENTED BY MEN....................MEN FORCE WOMEN TO SELL THEIR BODIES AT A PRICE, AND THAT THE LOWEST PAID BODY IS THAT OF A WIFE.ALL WOMEN ARE PROSTITUTES OF ONE KIND OR ANOTHER."Now at first reading this seems to be some feminist rant at the male dominated world but whilst the 'heroine' of this book is indeed a woman, as is the writer, there is more to this book than that.The book tells the story of Firdaus who is born into poverty to a father who does not respect women and sees daughters worth in how much he can get for them by way of a dowry. Firdaus is from an early age abused sexually and physically not only by her father but also those other relatives who should be protecting her. Eventually she turns to prostitution as a means of controlling her own destiny. In the end she realises that all she is really doing is making money for different men who are supposedly proecting her, pimp, police, doctors, lawyers etc and finally is sentenced to death for killing her pimp who was trying to kill her. whereupon she finally discovers that the only way to embrace death.Now this book is set in 1970's Egypt but it still has a relevance in todays world. Women in many parts of the world are still seen as second class citizens where discrimination is rife and opportunities are indeed limited but as I stated at the top it is not just women who have their life choices chosen for them by their birthright. So do many men. In countries where lack of affordable schooloing and a need to earn money for the family can stymie their life chances. Just look at the caste system in India for instance. After all the two most decisive factors in social progression whether female or male has to be education and opportunity. This is a book that really should be every schools reading sylybus.For as Firdaus says "FOR DURING LIFE IT IS OUR WANTS, OUR HOPES, OUR FEARS THAT ENSLAVE US."
Review by jtodd1973
23/09/2015
Book 1: Woman at Point Zero by Nawal El SaadawiI've been meaning to read something by Saadawi for several years now, but you generally can't find her in bookstores, and I've really cut back on buying books online, so I was glad to receive this book for Christmas. My expectations weren't undermined. Saadawi is a powerful writer, who through terse but poetic language, pulls you into a world utterly different than your own and utterly different from what you think you know.She reminds me of W. G. Sebald in that you have no idea of what's real and what's fiction. In that way, her story of Firdaus's oppression by and rebellion against the patriarchal order is even more compelling.Edit | More