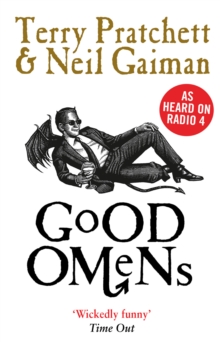 Description
According to the Nice and Accurate Prophecies of Agnes Nutter - the world's only totally reliable guide to the future - the world will end on a Saturday.
Next Saturday, in fact. Just after tea...
Information
Format: Paperback
Pages: 416 pages
Publisher: Transworld Publishers Ltd
Publication Date: 01/05/1991
Category: Fantasy
ISBN: 9780552137034
Other Formats
eAudiobook MP3 from £6.00
Paperback from £7.65
Hardback from £10.65
Other printed item from £16.25
EPUB from £4.99
Free Home Delivery
on all orders
Pick up orders
from local bookshops
Reviews
Showing 1 - 5 of 27 reviews.
Previous | Next
Review by felius
16/06/2015
I haven't read any other Neil Gaiman books, but this has put him on my "must-read" list. For Terry Pratchett it's a welcome departure from Discworld.This is an incredibly funny (and very British) story about a biblical apocalypse gone slightly awry. A familiarity with Christianity and the book of Revelations in particular would be helpful in getting many of the jokes, but I think it'd be enjoyable regardless.
Review by razorhack
16/06/2015
This is quite possibly the funniest book on armageddon ever. When two very funny authors cooperate and obvioulsy have fun - the result is extraordinary.
Review by roxy
16/06/2015
Hi, hi, hi… one thing I could say is that I completely disagree with those who've said that this was the worst that ever came out of these two authors… yep that's it… completely disagree…
Review by mydogatebob
16/06/2015
Terry Pratchett and Neil Gaiman should always write together if something like this is the outcome. A brilliantly funny, often random, and always fantastic book, it has quite a serious topic taken altogether not seriously at all. One of the funniest books I have ever read.
Review by reading_fox
16/06/2015
Quirky satire. Maybe slightly dated now, but still extremely funny in places.Hell has decided it is time for the Arageddon, and has sent the Antichrist to earth as a human baby. The demon Crowley (crawly the snake in Eden) has been appointed to watch over him, and ensure that he grows up suitably minded to bring about the final confrontation. Crowley rather likes humannity in the 20th century and isn't best pleased about it's imminant destruction. So he informs his old sparring partner the Angel Arazaphel who's also been on Earth that long, and couldn't bear the loss of bookshops and classical music. Unfortunetly the Antichrist baby was mistakenly swapped at birth, and grew up in a middle class family in small village near Tadcaster in central England. Adam Young and his gang of friends (Them) have a perfectly normal childhood until Adam turns 11 and the day of Armageddon looms.All of this has been predicted by the "Nice and Accurate" prophecies of Agnus Nutter - Witch. Anathema Device is her decendant, and so she too is on hand, along with representatives of the Witchfinder Army.The plot is as weird as anything you'd expect from Gaiman, and the satire as biting as Terry on his best days. His target this time is very much middle class england. Letter writing villagers, pipe smoking dads, new age mums and althought he word Guardian readers is never mentioned, I'm sure they'll be finding a hat that fits. Religion, as may be expected, also gets battering - whether it's a middle class CoE that's devoutly avoided attending, or the Rapture seeking US version, they're all fair game to Pterry's wit. There are as may well be expected vast amounts of gratuitous puns - just look at the characters names. After all a good pun is it's own re-word.There are some obvious ideas stolen from the author's other works - DEATH reappears for example, along with other anthromorphic personifications. But in general it is a seemless blend of writing, without disparate breaks or changes in tone.TBC