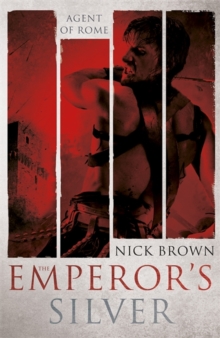 The Emperor's Silver : Agent of Rome 5
Hardback
Description
Still recovering from his previous assignment in Arabia, imperial agent Cassius Corbulo has been spending most of his time and money on women and wine.
Unfortunately for him, word of his achievements has reached the emperor Aurelian's deputy and he is sent north, tasked with smashing a counterfeiting gang.
Cassius tracks the criminals to the city of Berytus, where his investigations are hampered by civil unrest and uncooperative officials, not to mention the personal problems of his servant Simo and bodyguard Indavara.
Despite this - and intense pressure from his superiors - the young officer eventually closes in on the gang.
But his enemies will do anything to protect their profits, and Cassius and Indavara soon find themselves fighting not only for the emperor, but for their very survival.
Information
Format: Hardback
Pages: 416 pages
Publisher: Hodder & Stoughton General Division
Publication Date: 04/06/2015
Category: Historical fiction
ISBN: 9781444779141
Other Formats
Paperback from £7.85
EPUB from £5.99
Free Home Delivery
on all orders
Pick up orders
from local bookshops
Reviews
Showing 1 - 1 of 1 reviews.
Review by janerawoof
27/08/2015
This series keeps getting better and better! I read slowly to make it last, since I KNEW I would really enjoy this latest Agent of Rome adventure! And I was absolutely right! This adventure was more of a detective story, with Cassius, Simo, and Indavara in Berytus [modern Beirut] investigating a ring of counterfeiters. They gladly accept the aid of government officials and City sergeants [lictors?]. Emperor Aurelian has recently issued new silver coins; fakes are appearing all over the East. Early on, Cassius has used his smooth tongue, but also exhibited his overexuberance, impetuosity and carelessness based on flimsy circumstantial evidence. There are more red herrings. A smuggling outfit is exposed. Through a happy chance, Indavara comes upon a promising lead while helping Simo's Christian congregation in their good works. It is followed to its surprising end. I liked that the story was not only non-stop exciting adventure but also gave us Simo's and Indavara's very human emotions and personal stories. Simo and Cassius continue their disagreement over the place of Simo's religion in his life. Indavara, besides finding what might be more of his background, is struggling to find his place in society outside the arena and not to let its evils overwhelm him. Cassius is unsympathetic to his feelings and awkward with him. This psychology I thought was a strong aspect of the story.Pacing was superb. There were two dangerous chases which as they unfolded were almost cinematic in the words used to describe them; both involved aqueducts; I could almost see them. We saw Cassius's quick thinking. Both incidents were heart-stopping. I felt squeamish about the depravity between the brother and sister fraternal twins. That lowered my rating a little. I wish the author could have left out any words describing their strange relationship: sentences or paragraphs here and there. At least he only hinted at their personal goings-on.Highly recommended. I thank the author for sending me a copy of the novel.