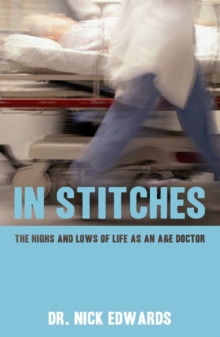 Description
The true story of an A&E doctor that became a huge word-of-mouth hit - now revised and updated. Forget what you have seen on Casualty or Holby City, this is what it is really like to be working in A&E. Dr Nick Edwards writes with shocking honesty about life as an A&E doctor.
He lifts the lid on government targets that led to poor patient care.
He reveals the level of alcohol-related injuries that often bring the service to a near standstill.
He shows just how bloody hard it is to look after the people who turn up at the hospital door. But he also shares the funny side - the unusual `accidents' that result in with weird objects inserted in places they really should have ended up - and also the moving, tragic and heartbreaking. It really is an unforgettable read. First published in 2007 when The Friday Project was a small independent, In Stitches went on to sell over 15,000 copies in the UK, the majority of which have come in the years since then.
It has proved to be a real word-of-mouth hit. This new edition includes lots of additional material bringing Nick's story completely up to date including plenty more suprising, alarming, moving and unforgettable moments from behind the A&E curtain.
Information
Format: Paperback
Pages: 272 pages
Publisher: HarperCollins Publishers
Publication Date: 01/08/2007
Category: Autobiography: general
ISBN: 9781905548705
Free Home Delivery
on all orders
Pick up orders
from local bookshops
Reviews
Showing 1 - 4 of 4 reviews.
Review by wyvernfriend
16/06/2015
This is like a blog from an Emergency Room/ A&E Doctor, his thoughts and his ideas, a lot of it sounds like stuff that could teach the Irish Health system a lot.
Review by kazimiera
16/06/2015
a fantastic read i would recommend this book to anyoneand a last someone who recognises the role that hcas peform within the nhs
Review by Elainedav
16/06/2015
I really enjoyed this book - it''s been on my list to read for a long time.I liked the structure of short chapters, each with a unique storyline of their own. The author justifies his 'rant' frequently and often reminds the reader that there are many good aspects of the NHS. Some of the chapters have titles such as 'why I love being an A&E Dr' which give some balance to the overall feel of the book and prevent the book from being criticised as a negative rant throughout. I hope many managers and accountants in the NHS have read this book and taken note of the unintended consquences that some policies have brought about. It would be good to think that the book may have been used as a catalyst for positive and ongoing change in the NHS.
Review by Steelwhisper
16/06/2015
This was, essentially, one long rant against NHS management decisions and it wasn't even written in any interesting way either.<br/><br/>Rather uninformative apart from shortcomings of the NHS system, and quite boring to boot.