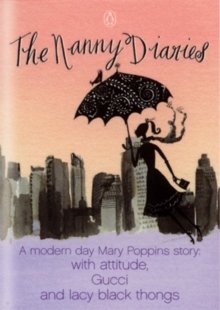 The Nanny Diaries,
Paperback
Description
Nan, in her early twenties, goes to work for the wealthy X family to help put herself through college, and is shocked by their antics.
Between raising the X's son Grayer, keeping on top of her studies, moving house and ensuring Mrs X's day runs smoothly, it's a wonder Nanny ever finds time to hang out with the gorgeous HH on the sixth floor.
With divorce on the cards, Nanny finds herself caught up in the X's embittered world of power plays, lies and deceit.
As communication rapidly breaks down,will Nanny be able to maintain the mental health of Grayer, despite the onslaught of Personal Problem Consultants, macrobiotic nutritionist and bilingual meals?
Information
Format: Paperback
Pages: 320 pages
Publisher: Penguin Books Ltd
Publication Date: 07/03/2002
ISBN: 9780141008929
Free Home Delivery
on all orders
Pick up orders
from local bookshops
Reviews
Showing 1 - 3 of 3 reviews.
Review by wyvernfriend
16/06/2015
Readable fluff but fairly predictable
Review by marialondon
16/06/2015
I read this book out of curiosity: A book so high in bestseller lists had to be (at least) interesting...or so I thought.After finishing the book, I found it interesting to read some of the reviews written about it: the low-rating reviews talked about a mean-spirited, un-funny, sad & basically boring book. True up to a point. The high-rating reviews talked about an extremely funny, sad but also tender, true-to-life book. Also true up to a point. In my opinion, the "Nanny diaries" fits none of the 2 above categories: you surely know by now that it's an expose on Upper-East-Side NY life, about parents horribly neglecting their children & essentially delegating their parental responsibilities completely to nannies. Since these kinds of parents do exist, it's interesting to read about them. But the book tends to take the point too far.People in the book, after a certain point, seem like caricatures of themselves. Even Nanny, who is portrayed as far too perfect, especially compared to Mrs X who is portrayed as far too horrible: in real life people tend to have their pluses & minuses, even horrible people like Mrs X...The book shows no nuances, whatsovever.The writers are out to prove a point, & in the beginning, yes, the book is funny & insightful. But after the point is proven (more than proven) the book gets boring & repetitive. By the end of the book, I was feeling cheated- where was the humour of the beginning? where was the sarcasm? only bitterness (& helplessness) was left....and yes, sadness about a very bad situation: but this sadness could be shown through much more realistic events. The ending comes abruptly, as if the writers had just lost steam & wanted to get the book out of the way.The "Nanny Diaries" is based on a good idea, & contains some good, funny, sarcastic writing (especially in the beginning). Once you get past the good, opening parts, there's not much there.
Review by Raven
16/06/2015
The flaw in this book, I think, is that it can't decide whether it wants to be an exposé, the sort of book that always gets referred to as a "scathing indictment", of rich Manhattanite socialites and how they treat their children, and their children's nannies, or whether it wants to be a novel about the same topic. On balance, it's the latter: it has sub-plots, supporting characters, a subdued romance, lurking in the background of the A-plot concerning the protagonist's work as a nanny, and thus it's irritating that the tropes of the exposé-type book are kept up - the use of the names in particular, referring to the family as the "Xes" and the protagonist herself simply as "Nanny" seems affected.That said, if this is taken as a novel, it is in no way a bad one. It's smart and witty, the protagonist is likeably caustic, and the child is believably drawn - an ordinary child, loveable and occasionally infuriating. His parents are edging towards caricature, but that's more forgiveable in a novel, I feel - this is, of course, a well-worn formula, and Mary Poppins needs proper fairy-tale antagonists. I think it drags too long - the last fifty pages could comfortably be dropped without taking away from the ending - and it isn't consistently paced - but like I said, it's in no way bad. It reads well, and smoothly, and doesn't in my mind qualify as chick-lit. It's too sharp for that.