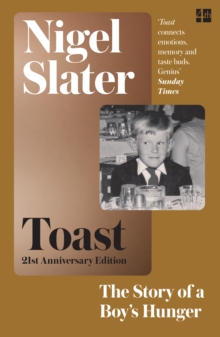 Toast: The Story Of A Boy's Hunger
Paperback
Description
'My mother is scraping a piece of burned toast out of the kitchen window, a crease of annoyance across her forehead.
This is not an occasional occurrence. My mother burns the toast as surely as the sun rises each morning.' 'Toast' is Nigel Slater's award-winning biography of a childhood remembered through food.
Whether recalling his mother's surprisingly good rice pudding, his father's bold foray into spaghetti and his dreaded Boxing Day stew, or such culinary highlights as Arctic Roll and Grilled Grapefruit (then considered something of a status symbol in Wolverhampton), this remarkable memoir vividly recreates daily life in 1960s suburban England.
Likes and dislikes, aversions and sweet-toothed weaknesses form a fascinating backdrop to Nigel Slater's incredibly moving and deliciously evocative portrait of childhood, adolescence and sexual awakening.
Information
Format: Paperback
Pages: 256 pages
Publisher: HarperCollins Publishers
Publication Date: 01/04/2004
Category: Memoirs
ISBN: 9781841154718
Other Formats
CD-Audio from £11.55
EPUB from £5.99
eAudiobook MP3 from £6.80
Free Home Delivery
on all orders
Pick up orders
from local bookshops
Reviews
Showing 1 - 5 of 10 reviews.
Previous | Next
Review by Greatrakes
16/06/2015
This book is a dark delight. Every chapter starts with a food heading, this seems gimmicky at first, but soon becomes an integral part of the book. The foods evoke the 1960s and 1970s and make the book a real nostalgia feast for me, as I am of the same generation as Nigel Slater.Although his mother died when he was eight, and he found his father cold and forbidding, and hated his step-mother, this is no misery memoir. In fact, from a very early age he was as good at giving misery as taking it. I was impressed with the clarity of his description of what it is like to be a child, as we get older we tend to sentimentalise our own childhood, we forget how brutal and unsentimental children and teenagers can be. His description of his feeling of release after the death of his father is a vivid example of this, and contrasts with the theatrical histrionics of his stepmother.The story of an awakening, both personal and sexual and one of the best pieces of autobiographical writing I have read, I hope he writes more.
Review by Fluffyblue
16/06/2015
This book really brought back some childhood memories for me. It was an easy read, and very evocative of the type of food that was around in the 70's.
Review by shiunji
16/06/2015
This book certainly read quickly (helped by good sectioning). A poignant but whimsical memoir, I thought Nigel drew the perfect line between empathy & self-depreciation. Some parts read a bit like horror (without giving too much away, watch out for Milk). As a foreigner currently in UK, it introduces a maze of strange foods, which when mentioned to the right people, elicit contented sighs & faraway looks. I liked it best for it's small adventures.
Review by karensaville
16/06/2015
I particularly enjoyed this book at the beginning when NIgel was reminiscing about foods from his early childhood that I remember vividly from my own. Very amusing about his Mother and her lack of cooking skills. The book actually became quite sad towards the end and I found it very moving.
Review by redjanet
16/06/2015
When I started this book I was delighted to realise that not only was it Nigel Slater talking about food in the beautifully and often humorous way he usually does, but that it was formed in the shape of a memoir of his youth.This is a coming of age story of the author, who lost his mother at an early age and then had to compete for his somewhat cold father's affections with a new stepmother, who provided him plenty of competition in the culinary arena of their kitchen.This makes for some quite sad reading, but as usual, I also find Nigel Slater's writing quite inspiring as he was spurned on by his desire to please his father as well as to broaden his horizons with regards to food. It is also a story of someone discovering himself sexually and there is a lot of admirable honesty in the author's writing about this aspect of his life.I really enjoyed reading this. There were times when I would have liked to know a bit more about the food he was learning to prepare, but I suppose for that I'll have to stick to his cook books!