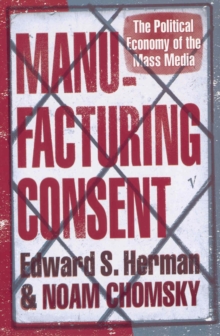 Manufacturing Consent : The Political Economy of the Mass Media
Paperback
Description
Contrary to the usual image of the press as cantankerous, obstinate, and ubiquitous in its search for truth, Edward Herman and Noam Chomsky depict how an underlying elite consensus largely structures all facets of the news.
They skilfully dissect the way in which the marketplace and the economics of publishing significantly shape the news.
They reveal how issues are framed and topics chosen, and contrast the double standards underlying accounts of free elections, a free press, and governmental repression between Nicaragua and El Salvador; between the Russian invasion of Afghanistan and the American invasion of Vietnam; between the genocide in Cambodia under a pro-American government and genocide under Pol Pot.
What emerges from this groundbreaking work is an account of just how propagandistic our mass media are, and how we can learn to read them and see their function in a radically new way.
Information
Format: Paperback
Pages: 432 pages
Publisher: Vintage Publishing
Publication Date: 01/01/1998
Category: Semiotics / semiology
ISBN: 9780099533115
Free Home Delivery
on all orders
Pick up orders
from local bookshops
Reviews
Showing 1 - 1 of 1 reviews.
Review by reichec
16/06/2015
This work by Herman & Chomsky is a real eye-opener. It was first published in 1988 and now appears deficient with respect to subsequent developments in Cambodia and recent events in the Middle East, but it remains an important examination of the operation of the mass media in the USA.To begin with, the authors develop a model for the US mass media as a propaganda system. They argue that it does not explicitly function as an organised conspiracy, but is overwhelmingly influenced by a set of witting or unwitting filters, which serve to distort and manipulate the delivered message.Herman & Chomsky then go on to test their model by exploring a series of case studies where the filters are likely to have the greatest effect. As expected, these case studies (which include the US intervention in Central America and Indochina) provide clear support for the propaganda model.This book is not intended to be a history of the case study areas. Nor should it be, else it would be bigger and more unwieldy than would serve the intended purpose. However, a lot of assumed knowledge makes the work less accessible and occasionally confusing, particularly concerning the conflict in Cambodia.While the book is mostly written in an appropriately neutral and scholarly tone, there are times when the authors allow themselves to stray into emotive territory. This is perhaps irresistible, due to the outrageous nature of US militarism in the examined areas, but it has a tendency to diminish the authoritative style required for such a thesis.There are also frequent moments of repetition, perhaps with the intention of emphasising key points. Yet this, combined with the concern above, causes the authors to sometimes appear rather condescending or even a little sensationalist, like the mass media they are examining.However, these concerns do little to detract from what is an entirely credible and robust study of the US mass media. Moreover, the lens of the propaganda model delivers a brutal exposure of cynicism and chauvinism in US foreign policy, especially in relation to 'client' states and the 'defense of democracy'.For a lesson in viewing the messages delivered by the mass media with critical thought and skepticism, Manufacturing Consent is a very important work.