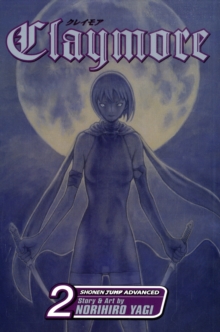 Claymore, Vol. 3
Paperback
Part of the Claymore series
Description
A Claymore - a female warrior named for the sword she carries - travels from medieval village to village to destroy Yoma, monsters who disguise themselves as humans and who are almost impossible to kill.
Claymores are half-humans, half-demons who willingly transformed themselves by mixing their blood with monster's blood.
Claire, nicknamed silver-eyed killer, is such a powerful Claymore, she can slay a Yoma using only one hand.
But she must constantly struggle to keep from becoming a monster herself.
Claire and the orphan Raki travel to the town of Rabona, where a Yoma has been stalking the priests inside the cathedral.
The creature could be one of the guards, or even a priest, but this time Claire won't be able to sense its aura.
Does she stand a chance against the stealthy Yoma?
Information
Format: Paperback
Pages: 208 pages, chiefly Illustrations
Publisher: Viz Media, Subs. of Shogakukan Inc
Publication Date: 01/06/2006
Category: Manga
ISBN: 9781421506197
Free Home Delivery
on all orders
Pick up orders
from local bookshops
Reviews
Showing 1 - 3 of 3 reviews.
Review by Kassilem
16/06/2015
I was unsure about starting this series at first. The first volume was interesting enough but it wasn't phenomenal. But I've come to realize with these manga series that it sometimes takes a few volumes to really engross you in the story. So it was with this series and I'm glad I read past the second volume because it took a huge turn for the better. The deep plotline emerged fairly quickly but in pieces so as to keep you wondering and coming back for more, and the artwork seemed to get better. After volume two or three I was either used to the style or it really did get better. And by volume 10 I'm loving it. The story has gone deeper. It's not just a story about action but of comradeship and betrayal and persistence and tragedy. Yagi had me at the sword fighting and demons but now I'm hooked into the story and I don't think it's going to let me go until it's finished. I'm certainly not complaining; I'm enjoying the series immensely. Recommended for fantasy and/or graphic novel fans.
Review by BrynDahlquis
16/06/2015
I did like it more than the first volume, so I probably will be continuing the series. But I'm still not wild about the art -- all the characters look the same and it's very difficult to tell them apart. The plot of this volume is also more interesting than that of the first, but it's still not quite captivating. But if the series keeps getting better, it could get pretty cool.
Review by krau0098
16/06/2015
This was another fantastic installment in the Claymore series. This book is only the first half of a story arc that continues in volume 3 of the Claymore series (Teresa of the Faint Smile). This is an action packed fantasy manga with excellent characterization and great world-building. I have watched all of the Claymore amine and have been eager to read the Manga in order to get more of the story.This installment picks up shortly after where the first book left off. Clare is asked to hunt down a Yoma in the Holy City of Rabona. Claymore are illegal in Rabona, so Clare is forced to hide her Claymore abilities with a special pill. Raki, the young boy from the first novel, accompanies her and helps provide cover for her story of being a normal girl who is there to sell antiques in Rabone. Clare faces on her greatest challenge yet when she finds out the Yoma is a Voracious Eater.As mentioned above this is only the first part of the story, the story of Clare's battle with the Voracious Eater is continued into volume three. I enjoyed how the Clare and Raki continue to develop a solid friendship throughout this book. It was also interesting to see Clare dressed and acting as a civilian. Of course when Clare goes out Yoma hunting she seriously kicks butt. This is again read like a traditional Manga (back to front, right to left). The illustration is very well done. There is nice detail and it is never hard to follow what is going on. I really enjoyed it.You learn a little more background on Yoma and Claymore as well. The world is definitely expanded beyond what we were introduced to in the first book. Overall I am really enjoying how action packed this series is while doing an excellent job of having great character development and an engaging storyline. I am really enjoying this manga series so far. The illustration is well done, the world in intriguing, and the characters are likable and engaging. I am excited to see what the next installment brings to the story.