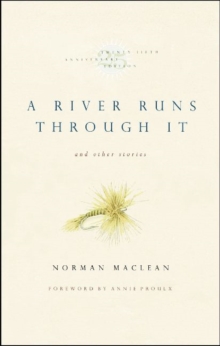 A River Runs Through it and Other Stories
Paperback
Description
Just as Norman Maclean writes at the end of "A River Runs through It" that he is "haunted by waters," so have readers been haunted by his novella. A retired English professor who began writing fiction at the age of 70, Maclean produced what is now recognized as one of the classic American stories of the twentieth century. Originally published in 1976, A River Runs through It and Other Stories now celebrates its twenty-fifth anniversary, marked by this new edition that includes a foreword by Annie Proulx. Maclean grew up in the western Rocky Mountains in the first decades of the twentieth century. As a young man he worked many summers in logging camps and for the United States Forest Service. The two novellas and short story in this collection are based on his own experiences--the experiences of a young man who found that life was only a step from art in its structures and beauty. The beauty he found was in reality, and so he leaves a careful record of what it was like to work in the woods when it was still a world of horse and hand and foot, without power saws, "cats," or four-wheel drives. Populated with drunks, loggers, card sharks, and whores, and set in the small towns and surrounding trout streams and mountains of western Montana, the stories concern themselves with the complexities of fly fishing, logging, fighting forest fires, playing cribbage, and being a husband, a son, and a father. By turns raunchy, poignant, caustic, and elegiac, these are superb tales which express, in Maclean's own words, "a little of the love I have for the earth as it goes by." A first offering from a 70-year-old writer, the basis of a top-grossing movie, and the first original fiction published by the University of Chicago Press, A River Runs through It and Other Stories has sold more than a million copies. As Proulx writes in her foreword to this new edition, "In 1990 Norman Maclean died in body, but for hundreds of thousands of readers he will live as long as fish swim and books are made."
Information
Format: Paperback
Pages: 238 pages, 10 halftones
Publisher: The University of Chicago Press
Publication Date: 08/10/2001
Category: Literary studies: from c 1900 -
ISBN: 9780226500669
Free Home Delivery
on all orders
Pick up orders
from local bookshops
Reviews
Showing 1 - 5 of 13 reviews.
Previous | Next
Review by ksmyth
16/06/2015
I enjoyed it, but at only a hundred pages, I somehow thought it would be more. This might be one of those rare occasions when I got more out of the movie than the book.
Review by Crystalee
16/06/2015
I was bored . . . 100 pages without much happening. Most interesting part? Someone gets sunburnt where NO ONE should. The end.
Review by stipe168
16/06/2015
i've only read a river runs through it.. not any of the other short stories. it's a very pretty story, and well written. who knew fly fishing would be so interesting?
Review by co_coyote
16/06/2015
Norman Maclean grew up in Montana in the 1920's and this novella and two other short stories describe his experiences there. In many ways it wasn't so different from the way I remember growing up in Arizona in the 1950's. The West was always a tough place. The title story of Maclean's fine book was made into a movie staring Brad Pitt and directed by Robert Redford, but I don't remember it having the same effect as reading the story did. An excellent book for rainy afternoons when the wife is complaining about cleaning the house alone and you remember how full of promise life used to be for a young man growing up in the West.
Review by srfbluemama
16/06/2015
I enjoyed this book immensely. Maclean has a wonderful way of writing that makes me think of my father. This was an enjoyable read, and definitely a classic I'll keep on my personal bookshelf to pass on to my son when he is older.