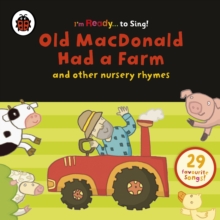 Old Macdonald Had a Farm and Other Classic Nursery Rhymes
CD-Audio
Description
This entertaining audio CD collection from Ladybird contains twenty-nine of the best-loved nursery rhymes and songs that children know and love from home, nursery and school.
With jaunty music and characterful singers, it's perfect sing-a-long fun for adults and children alike.
Content includes: Old MacDonald Had a Farm; The House That Jack Built; The Wheels on the Bus; London Bridge is Falling Down; Row, Row, Row Your Boat; There Was an Old Lady Who Swallowed a Fly; Ten inthe Bed; If You're Happy and You Know It; Wind the Bobbin Up; Five Little Speckled Frogs; One Man Went to Mow; This Old Man; Five Little Monkeys; Incy Wincy Spider; Down in the Jungle; Five Little Men in a Flying Saucer; Ten Fat Sausages; Jelly on a Plate; Sleeping Bunnies; The Farmer's in his Den; One Finger, One Thumb; Five Little Ducks; Baa, Baa, Black Sheep; Here We Go Round the Mulberry Bush; The Ants Go Marching; The Grand Old Duke of York; Humpty Dumpty; Head, Shoulders, Knees and Toes; and, Twinkle, Twinkle, Little Star.
Free Home Delivery
on all orders
Pick up orders
from local bookshops