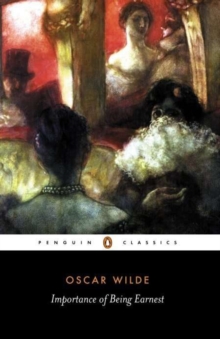 The Importance of Being Earnest and Other Plays
Paperback
Description
Wilde was both a glittering wordsmith and a social outsider.
His drama emerges out of these two perhaps contradictory identities, combining epigrammatic brilliance and shrewd social observation.
Includes "Lady Windermere's Fan", "Salome", "A Woman of No Importance", "An Ideal Husband", "A Florentine Tragedy" and "The Importance of Being Earnest", which appears in full with the "Grigsby" scene which originally made up the fourth act.
Information
Format: Paperback
Pages: 464 pages, illustrations
Publisher: Penguin Books Ltd
Publication Date: 25/05/2000
Category: Plays, playscripts
ISBN: 9780140436068
Free Home Delivery
on all orders
Pick up orders
from local bookshops
Reviews
Showing 1 - 2 of 2 reviews.
Review by NativeRoses
16/06/2015
Wilde is the master of comic irony in verbal and dramatic forms. Non-stop wonderful, ironic wit permeates these plays. For example, in Earnest, a character remarks about a recent widow, "her hair has gone quite gold from grief." Very highly recommended.
Review by stillatim
16/06/2015
Sometimes your reading habits look completely nonsensical. Why would I have read any Wilde? Sure, he was a socialist, elitist wit. But why would I like such a thing? <br/><br/>Anyway, I'm glad I got around to reading some of his plays. 'Lady Windemere's Fan' is very clever, and feels to me almost like a mythical allegory: social outsider takes on herself the 'sins' of society. Only the social outsider can do this, because only she is willing to recognize that those sins aren't particularly sinful. Happiness ensues, due to one woman's sacrifice. 'A Woman of No Importance' was my least favorite here; in the other plays the wittiest, most fun characters are also the upright ones. Here I wanted to slap the morally upright characters in the face. By contrast, in 'An Ideal Husband' the most attractive character is the one who ends up being the ideal husband. And it's funnier. Of course 'Earnest' is far and away the best piece here. Wilde makes his moral points without moralizing, and definitively chooses silliness over sententiousness. The characters might not be as impressive as Lord Goring in 'Husband', but the play as a whole is far better. The two symbolist works, 'Salome' and 'A Florentine Tragedy,' show Wilde's range, for the better in 'S', for the worse in AFT, which is almost unreadable. Anyone who enjoys Strauss' opera will enjoy reading Wilde's play. <br/><br/>As for the edition, the apparatus is a little overwhelming: there's no distinction between a note that you really need to know for reading the play (i.e., I imagine few will get the joke about the aristocracy suffering from 'agricultural depression' without the note about economic fluctuations of the time) and notes that will just irritate you (i.e., textual variations that are clearly less effective than the established text). <br/><br/>This is all very humorless, I know. And in matters of grave importance, style, not sincerity, is the vital thing.