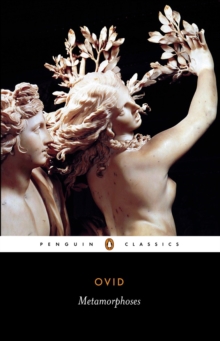 The Metamorphoses : A New Verse Translation a New Verse Translation
Paperback
Description
Ovid's deliciously witty and exuberant epic starts with the creation of the world and brings together a series of ingeniously linked Greek and Roman myths and legends in which men and women are transformed, often by love - into flowers, trees, stones and stars.
This new verse translation, in simple and swift English hexameters, allows Ovid's narrative to flow - pulling the reader along with it.
Information
Format: Paperback
Pages: 768 pages, map
Publisher: Penguin Books Ltd
Publication Date: 29/11/2003
Category: Poetry by individual poets
ISBN: 9780140447897
Free Home Delivery
on all orders
Pick up orders
from local bookshops
Reviews
Showing 1 - 5 of 7 reviews.
Previous | Next
Review by CaptainBroadchurch
16/06/2015
Were Metamorphoses contemporary it would be a tv clip show called "World's Most Amazing Transformations!", would be aired during the graveyard slot on a Tuesday night, and would be narrated by Jamie Theakston or some other washed up has-been whose one marketable quality lies in having a voice people might recognise. What's more, it would still be a thousand times better than this horrible book.
Review by ron_benson
16/06/2015
I can't find the original version that I read in my classical civilization course. This is still the same. Ovid is an excellent writer and this compendium of translated "stories" is a beautiful read for those looking for a slice of classical mythology. My favorite is still Orpheus and Eurydice.
Review by gbsallery
16/06/2015
A surprisingly pacey read; whilst somewhat lacking in structure, there is at least some overall thematic cohesion, and the writing itself is superb. If girls being turned into trees is your thing, then this is the epic poem for you. Also, rape.
Review by markbstephenson
16/06/2015
Was Ovid the most talented poet of all time? Who outdid him?
Review by Smiley
16/06/2015
Enertaining, enlightening, but ultimately light.All the known myths and stories from the Greek/Roman world, with the exception of a few from Homer and Virgil are contained in this lengthy poem to unending transformation.Ovid's boast in the epilogue, "Thoughout all ages, if poets have vision to prophesy the truth, I shall live in my fame." is certainly true.A note on this translation: I have only a smattering of Latin, but found this text to be far superior to the clunky Charles Martin translation, despite Bernard Knox's enthusiasm. The notes were especially helpful. The unnumbered notes are contained in the back of the book so a reader needs two bookmarks. Notes are for the convience of the reader, why put them at the back instead of the foot of the page? and unnumbered too?