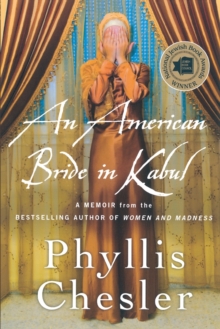 AMERICAN BRIDE IN KABUL A MEMOIR
Paperback
Description
The extraordinary story of a young woman's ordeal in a harem in Afghanistan and how her escape inspired her fight for human rights.
Drawing upon her personal diaries, this is the story of how a naive American girl learned to see the world through eastern as well as western eyes and came to appreciate Enlightenment values.
This dramatic tale recreates a world gone by, a place that is no more, and shares the way in which the author turned adversity into a passion for worldwide social, educational, and political reform.
Information
Format: Paperback
Pages: 256 pages
Publisher: PALGRAVE
Publication Date: 04/11/2014
Category: Biography: general
ISBN: 9781137279408
Free Home Delivery
on all orders
Pick up orders
from local bookshops
Reviews
Showing 1 - 3 of 3 reviews.
Review by seongeona
27/08/2015
Could have, should have been so much better. Had she written it from the position of her now-adult, in-hindsight self, it would have been a great story about lessons learned. However, it seems she was writing from her old diary at age 19 and so the naive, uninformed, starry-eyed, whiny, teenager was what shown thru. I had little sympathy for this person who blindly went far from home without a thought for herself, her safety, her future. Yes, this was before my time, and times were different. Yes, she grew up in a big city and had fended for herself since a young age. But, even so, this marriage (a result of sleeping with a man who she felt she had to marry because she slept with him!) and move to Afghanistan was irresponsible behavior and she seemed to blame everyone but herself for her troubles. The negativity toward Afghanistan is shocking, the hatred palpable at times, yet oddly juxtaposed with apparent praise for the textiles, mountains, gardens, marble floors, etc. The flippant laughter she expressed when sunbathing in a bikini on her rooftop caused trouble for her family reinforced the immature attitude. This woman knew absolutely nothing about anything, it seems. Perhaps this is a lesson indicating that world history/culture is sorely lacking in higher education, then as now.
Review by labfs39
23/09/2015
In 1961, twenty-one-year-old Phyllis Chesler went to Kabul with her husband, Abdul-Kareem, to visit his family. She was shocked when, upon arrival, he did not want to leave and expected her to live as his female relatives did. They were wealthy, dressed in the Western fashion, and received guests at home. For several months, she experimented with the boundaries of her life in Afghanistan, then she became ill and went home with the help of her father-in-law. For the next fifty years, Phyllis pursued a career in psychotherapy and feminism. Now she is publishing an account of her months in Kabul and reminiscing about her relationship with her ex-husband and sharing her views on all things Islamic. In 1961, twenty-one-year-old Phyllis Chesler was deceived by her seemingly Westernized husband, Abdul-Kareem, and tricked into going with him to Afghanistan. Once there, she was imprisoned in a harem and starved. She plotted her escape and finally succeeded against all odds. Since then her life has been an attempt to understand those three months and her near death experience. Because of having married a Muslim man, she has special insight into 9/11, the veiling of women, and the politics of the Middle East.I am very confused as to which of these accounts the author believes, never mind which might actually be true. The first half of the book is a vague account of her short-lived marriage, based on diary scraps, the details of which she admits to not remembering. The second half of the book is a wandering exposition of her views substantiated by conversations with her ex-husband, now in exile in the US, and by several travelogues written primarily by women prior to her arrival in Afghanistan. Others, however, have loved this book, and it won the The Krauss Family Award in Memory of Simon & Shulamith (Sofi) Goldberg, thus the National Jewish Book Awards Winner sticker on the cover.
Review by joyfiction
16/06/2015
As a whole this book was decent enough and while the descriptions of her time being, in her words, a captive in a foreign country by her husband's Islamic family and forced to adjust to a world that just seemed like she had no chance of belonging in were a good read? There were moments when she went quite a bit off track and had some long sections where she talked almost endlessly about other people and their experiences in Afghanistan. And while mentioning other people writing about their experiences is a good way to encourage further reading? There is a point where it becomes awkward when mixed in with her personal experiences. And what I could never wrap my head around was how she would eventually become close friends with the man who helped keep her hostage, committed what amounted to spousal rape and then refused to let her have a divorce even after she had fled back to her home country. That in and of itself seemed ridiculous and what was most apparent was that when she got married and moved to Afghanistan she knew little to nothing about the culture she was about to be thrust into. And in the end that did little more than put her in a position to be miserable. And while much of what she went though is most definitely terrible and not something that she deserved? She seemed to be a thoughtless, immature girl who married without considering what that meant and got in way over her head. And rather than reflecting on that for more than a brief moment? She seemed to want to blame everyone else for how miserable she had become.