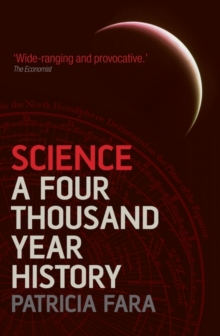 Science: A Four Thousand Year History
Paperback
Description
Science: A Four Thousand Year History rewrites science's past.
Instead of focussing on difficult experiments and abstract theories, Patricia Fara shows how science has always belonged to the practical world of war, politics, and business.
Rather than glorifying scientists as idealized heroes, she tells true stories about real people - men (and some women) who needed to earn their living, who made mistakes, and who trampled down their rivals in their quest for success.
Fara sweeps through the centuries, from ancient Babylon right up to the latest hi-tech experiments in genetics and particle physics, illuminating the financial interests, imperial ambitions, and publishing enterprises that have made science the powerful global phenomenon that it is today.
She also ranges internationally, illustrating the importance of scientific projects based around the world, from China to the Islamic empire, as well as the more familiar tale of science in Europe, from Copernicus to Charles Darwin and beyond. Above all, this four thousand year history challenges scientific supremacy, arguing controversially that science is successful not because it is always right - but because people have said that it is right.
Information
Format: Paperback
Pages: 512 pages, 59 black and white halftones
Publisher: Oxford University Press
Publication Date: 11/02/2010
ISBN: 9780199580279
Free Home Delivery
on all orders
Pick up orders
from local bookshops
Reviews
Showing 1 - 1 of 1 reviews.
Review by stretch
16/06/2015
Science: A Four Thousand Year History is an unconventional take on the history of science. Unlike conventional histories, Patricia Fara, tries to debunk scientists and their achievements rather than celebrating them as heroic genius in pursuit of reality. She Frequently emphasizes where notable figures were wrong or misguided and how their discoveries often involved luck or methods no longer accepted as scientific, often sitting in judgment of what contemporary prejudices colored scientific findings and ideas. Fara never discounts their ideas wholesale, but comes close on several occasions, especially if they come into conflict with our modern social norms and the feminist movement. She stresses how science is fallible and subject to personal, political, and material pressures.In an effort to destroy the picturesque ideal of mostly European lone scientific genius making great discoveries isolated in their laboratories Fara traces the origins of science to several sources now thought of as magical or unscientific, such as concepts and techniques rooted in astrology and alchemy. Artisans and technicians, not just canonical philosophers and "scientists," have always been important contributors, she points out. She reminds us, too, that amateur observers and collectors have long played significant roles. These observations and many others along the same lines are not particularly controversial or surprising. Fara tries too hard at times to bolster the importance of minor figures, especially women, doing fairly mundane things that were important to scientific discoveries to the point that it feels like she would rather fore sack what the discoveries have given us as a society to build up minor role players to make up for a slight of history.It is very substantive, thought-provoking, and briskly-paced. In support of the main themes Fara has interesting things to say about science and religion, non-Western contributions (with noticeable omissions; Rome, per-Colombian Americas, India), the contributions of women, the roles of scientific institutions, and many other important related subjects.