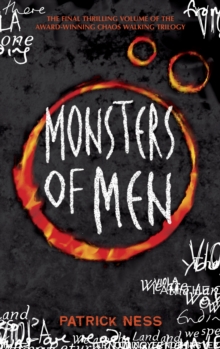 Description
"War," says the Mayor. "At last." Three armies march on New Prentisstown, each one intent on destroying the others. Todd and Viola are caught in the middle, with no chance of escape. As the battles commence, how can they hope to stop the fighting?
How can there ever be peace when they're so hopelessly outnumbered? And if war makes monsters of men, what terrible choices await? But then a third voice breaks into the battle, one bent on revenge...The electrifying finale to the award-winning Chaos Walking trilogy, Monsters of Men is a heart-stopping novel about power, survival, and the devastating realities of war.
Information
Format: Hardback
Pages: 624 pages
Publisher: Walker Books Ltd
Publication Date: 03/05/2010
Category: General
ISBN: 9781406310276
Free Home Delivery
on all orders
Pick up orders
from local bookshops
Reviews
Showing 1 - 5 of 6 reviews.
Previous | Next
Review by raycun
16/06/2015
The second book in the trilogy suffered because the main characters were stuck in one place, sinking into compromise with the things they were opposing or running away from in the first book. It was necessary development of plot and theme, but made for harder reading. Some of that remains in this book, but there is a lot more happening (almost too much in the first couple of chapters, which were hard to jump in to) and the central characters can do more to drive events.
Review by readerspeak
16/06/2015
Wow. I didn't know what to expect from this final book of Ness's Chaos Walking series. I'm amazed by the author's imagination, the world he created which is so unlike and so like our own. The story starts with action and continues with battles and surprises throughout. Todd, Viola, Mayor Prentiss, and even Mistress Coyne all develop through the book in expected and unexpected ways. The Spackle finally have a voice too in this story about loyalty, communication, control, revenge, and ultimately, love. The series got better with each book. Highly recommended.
Review by RBeffa
16/06/2015
This is the third and final book in the Chaos Walking trilogy that began with The Knife of Never Letting Go. Reading this is like riding on a runaway train or perhaps an out of control rollercoaster. This is a terrific threesome of books. Monsters of Men was perhaps my least favorite of the three novels, but it has some amazing stuff in it. We certainly learn much more of the true nature of the New World.The characters we have followed in the earlier novels return. Todd, Viola, Mayor Prentiss, Mistress Coyle, Wilf, Lee and others, and also very importantly, the horses which are very integral to the overall, dare I say it, 'charm' and heart of this richly created world. The natives of New World, The Spackle, play a huge part in this story. As the current colonists await the arrival of a generation ship bringing 5000 more settlers from earth, the Spackle launch a devastating attack.As in the prior novel, Todd and Viola have a powerful bond and a strong, usually unspoken love for each other and will do anything they can to save the other. A lot of the drama in the story revolves around this core element. In the midst of war, which makes Monsters of Men, they are continually caught between two or three sides of the fighting.This novel seems to be dealing more with examining larger concepts - what is the price of peace, the sacrifice of the needs of the one for the many, how power corrupts, when does a freedom fighter become indistinguishable from a terrorist, can one forgive the unforgiveable, and perhaps most of all, redemption. There is no lack of suspense or surprises in this one, like the other books in the series; in fact it is turned up several notches and the pace of this novel is virtually breathless. I'll confess to some disappointment in the end, but as I reflect on it, I see it as part of the whole, an echo of themes examined before. Very well written series that I can recommend without hesitation.
Review by Karyn_Ainsworth
27/08/2015
I think anyone who gets to this end of the series knows that they can't expect Ness to be gentle on his characters. I was tense with anticipation and worry most of the time. 'This book is terrible.' I would say to my husband. 'So why are you reading it?' 'Because it's brilliant!'. Husband walks away shaking his head. While this is very obviously a piece of fiction, aliens and telepathy, I spent most of the time thinking how horribly real a lot of it was. I can think of events in recent history that match all of the worst events in the book. This book made me feel, and it made me think, and I couldn't put it down.
Review by glitzandshadows
10/11/2015
That was a wild ride. I need to lie down. Forever.
Also in the Chaos Walking series