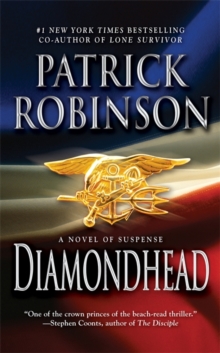 Description
When Navy SEAL Mack Bedford's fellow officers are brutally killed by Iraqi insurgents using a cruel, new, anti-tank Diamondhead missile, Mack avenges their murders by gunning down the then-unarmed attackers, ultimately getting himself court-martialed and kicked out of the Navy in the process.
To make matters worse, Mack then learns that the Diamondhead missiles were sold illegally by French industrialist and infamous politician Henri Foche.
Mack suspects that Foche will succeed in his campaign to become the next French president and fears that his election will promote the spread of international terrorism. In addition, Mack has a gravely ill son whose life can only be saved with an experimental and unaffordable foreign medical procedure.
So when Mack is asked to help assassinate Henri Foche, he finds himself agreeing.
His reward: a chance at survival for both his son and the country.
But before Mack can reach Foche, a jilted mercenary group warns the Frenchman of the threat, greatly increasing the difficulty of Mack's solo assassination attempt.
Can Mack track down and murder the French tyrant as he has been commissioned to do?Does he have the power to restore his reputation as a Navy SEAL? And will he be able to save his son before it's too late?
Information
Format: Paperback
Pages: 432 pages
Publisher: Vanguard Press Inc
Publication Date: 13/05/2010
ISBN: 9781593155780
Free Home Delivery
on all orders
Pick up orders
from local bookshops
Reviews
Showing 1 - 1 of 1 reviews.
Review by Jarratt
16/06/2015
Wow. This book was bad (and I don't mean baaaaad, but bad)! I'd warn you of of spoilers, but read Amazon's description and you can figure out what happens. And that's only part of the problem. There are many more:Author Patrick Robinson obviously has great respect for Navy SEALS and has done a lot of research about them. But protagonist Mack Bedford's abilities are so overblown and cartoonish, it's hard to take him seriously. He's pretty much described as Superman without the cape. He's bigger, badder, stronger, faster, more ruthless than...well, anyone. Absurd. And just because Bedford was a commander in the special forces, doesn't mean he can devise what ends up being a totally foolproof plan to take out a heavily protected person, complete with multiple disguises, superhuman feats, and horrendously unbelievable coincidences.For what is such an obvious plot line and result, it takes a helluva long time to get there. This is in part because of all the wasteful description of food preparation and news stories Robinson litters the story with. As to the latter, the reader is treated to two rather long reporter investigations into the crime. Problem is, we already know everything the reporter's uncovering, so there's absolutely no reason for it to be there. Robinson's portrayal of how the story is covered around the world is ridiculous too. Sure, the US media would cover it, but it wouldn't be wall-to-wall as he describes it. The audio version suffers from typical melodramatic male narration (which seems to be typical of audio books). Here, Charles Leggett delivers mundane sentences like he's amped up with adrenalin. To his credit, however, he does a slew of accents quite well.Diamondhead is awful. Don't read--or listen--to it.