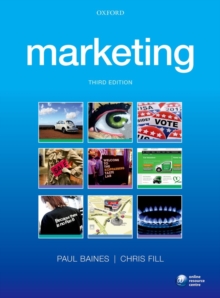 Description
Imagine you had the opportunity to teach your marketing module from within the marketing department of a top company?
This third edition of Marketing maintains the fresh and practice- focused approach for which it has become so popular, and continues to provide students with a truly unique insight into the fascinating world of a marketing practitioner through informative and engaging bespoke video interviews with those in the industry. - How did a youth engagement agency Livity use young people's affiliation for music to raise awareness of Childline? - What social media campaign did Virgin Media decide upon to promote superfast broadband? - How did BBH go about shifting reader perceptions of the Guardian newspaper? - Which message did Budweiser Budvar decide to develop in order to build strong emotional links with its customers?
Fully integrated with the topics covered in the textbook, each practitioner interview demonstrates how marketing problems are approached and solved in the real world. Hear from an international mix of companies including Virgin Media, Orange, Bartle Bogle Hegarty, Brompton Bicycle, Oxfam, BrainJuicer, Budweiser Budvar in the Czech Republic, Systembolaget in Sweden, and RAK Bank in the UAE.
Theory is firmly set in context for students through extensive use of integrated examples and mini cases within each chapter featuring companies such as twitter, itunes, and Red Bull, and covering marketing in a global context discussing Unilever operating in China, Nestle marketing in Malaysia, and a company selling halal meat in North London.
Review and discussion questions conclude each chapter bringing together the themes discussed and encouraging students to engage with the material.
Links to seminal papers throughout each chapter also present the opportunity to take this learning further, if desired.
Employing their trademark lively writing style, the authors continue to encourage students to explore beyond the classical marketing perspectives, provoking them into thinking critically about how they would approach marketing issues. Students will learn the theory that supports those skills vital to successfully engaging with marketing across all areas of society, from dealing with sceptical consumers, selling products to the government, and deciding which pricing approach to adopt, through to the ethical implications of marketing to children, and being aware of how to use social networking sites to their advantage.
Supporting both students and lecturers are the accompanying online resources: For lecturers: - Access exclusive video interviews of marketers from well-known organizations including Virgin Media and BBH to share with your students and help make marketing theory relevant to them - Save time by using the fantastic bank of additional resources including PowerPoint slides, comprehensive library of YouTube clips, test bank and tutorial activities to help support your teaching. For students: - Learn from the top recruitment professionals on the attributes they look for in graduates entering the workplace - Explore the latest developments in digital marketing and social media - Download our expert authors' podcasts to learn and revise on the go - Check you've really understood with a wealth of multiple choice questions, worksheets and activities
Information
Format: Paperback
Pages: 768 pages, illustrations (some colour)
Publisher: Oxford University Press
Publication Date: 27/02/2014
Category: Sales & marketing
ISBN: 9780199659531
Free Home Delivery
on all orders
Pick up orders
from local bookshops