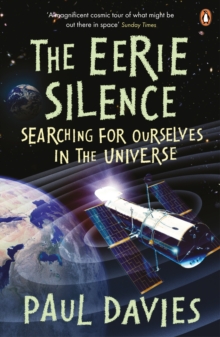 The Eerie Silence,
Paperback
Description
Paul Davies' The Eerie Silence: Searching For Ourselves in the Universe is an engaging and lucid guide to the 'Fermi Paradox' - why isn't the universe teeming with alien life?
If aliens ever contact us, it will be the single most significant event in human history. And Paul Davies will be responsible for saying something back.
For fifty years the Search for Extra-Terrestrial Intelligence has been scanning the skies.
Now Davies, head of SETI's Post-Detection Task Group, with 'a rare talent for making physics mind-bogglingly vivid and exciting' (Times Higher Education), explores what the mysterious silence it has encountered could mean.
Here he looks at exciting new ways to make contact with extra-terrestrial life.
He considers what form advanced alien intelligence is likely to take if it exists. And more importantly, what exactly it would mean if it didn't -- how extraordinary it would be if we were alone, to be human and here in this staggering, eerie silence...'A magnificent cosmic tour of what might be out there in space' Sunday Times 'Rather wonderful' New Scientist 'Conveys excellently the fascination of the quest' The Times 'An authoritatively written, immensely clear, lay person's guide to the many things we don't know about the rest of the universe' Guardian Paul Davies is Director of the BEYOND Center for Fundamental Concepts in Science, and co-Director of the Cosmology Initiative, both at Arizona State University.
An internationally-acclaimed physicist, writer and broadcaster, Davies is the author of some twenty award-winning books, including The Eerie Silence: Searching for Ourselves in the Universe, The Goldilocks Enigma: Why is the Universe Just Right for Life? and The Mind of God: Science and the Search for Ultimate Meaning.
Information
Format: Paperback
Pages: 242 pages
Publisher: Penguin Books Ltd
Publication Date: 01/03/2011
Category: Popular astronomy & space
ISBN: 9780141037783
Free Home Delivery
on all orders
Pick up orders
from local bookshops
Reviews
Showing 1 - 1 of 1 reviews.
Review by psutto
16/06/2015
Very GoodBook all about SETIPaul Davies is head of the SETI post-detection task group and has written a reflection of 50 years of scanning the skies for alien intelligence. This is an exploration of our existensial angst, are we alone in this vast universe? Davies explains why SETI may have been unsuccessful these last 50+ years. The option that we are truly alone, we after all only have 1 example of life (everything on Earth comes from a common ancestor), is thoroughly explored. Davies uses basic science and statistics to explore this idea and suggests a new way forward for SETI, not just to listen out for radio signals in a small wavelength but look for all different signs of life. Overall - This is a very thorough investigation of what it would mean to find intelligent life "out there". Highly recommended.