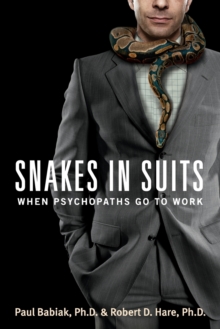 Snakes in Suits : When Psychopaths Go to Work
Paperback
Description
"Snakes in Suits" is a compelling, frightening, and scientifically sound look at exactly how psychopaths work in the corporate environment: what kind of companies attract them, how they negotiate the hiring process, and how they function day by day.
You'll learn how they apply their "instinctive" manipulation techniques-assessing potential targets, controlling influential victims, and abandoning those no longer useful-to business processes such as hiring, political command and control, and executive succession, all while hiding within the corporate culture.
It's a must read for anyone in the business world, because whatever level you're at, you'll learn the subtle warning signs of psychopathic behaviour and be able to protect yourself and your company-before it's too late.
Information
Format: Paperback
Pages: 352 pages, black & white illustrations
Publisher: HarperCollins Publishers Inc
Publication Date: 11/08/2006
Category: Business & management
ISBN: 9780061147890
Free Home Delivery
on all orders
Pick up orders
from local bookshops
Reviews
Showing 1 - 2 of 2 reviews.
Review by snarkhunt
16/06/2015
Bleargh. Pointless and shallow. Not what I expected from the man who wrote the diagnostic test for psychopathy. The lameness of this book makes me begin to wonder about the thinking behind the diagnosis.On the other hand, made me realize I haven't worked with anyone who is truly a psychopath.
Review by fist
16/06/2015
"Dumb psychopaths go to prison, smart psychopaths go to the executive floor". That's the premise of this interesting book that analyses how psychopaths manage to be successful in corporate environments or in specific industries. According to the author, psychopaths are 4 times more frequent among managers than among the general population.The book offers many great insights, and although inevitably, when specific examples were mentioned, I did sometimes wonder whether impression management or high-energy office banter might label me a psychopath (don't read this if you have psychological hypochondria), the author makes clear that true psychopaths display an entire range of behaviours with underneath a chilling emotional shallowness.The pace slows down a bit here and there when the author provides specific HR advice for people dealing with psychopaths (when they're already part of the organisation), or trying to weed out psychopaths from job applicants.This book helped me realise that an old friend (now estranged), whose behaviour I'd always found strange and cruel, had many psychopathic tendencies, as did a former colleague whose destructive energy had previously baffled me (you know who you are :). If I'd read this book before, I'd have realised this sooner and I would have been better prepared to deal with their behaviour. But odds are I'll meet more psychopaths during the rest of my career, so unfortunately it will probably come in useful in the future.