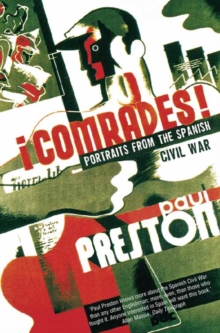 Description
A brilliant new portrait of the Spanish Civil War from our greatest historian of Spain. 'Anyone interested in Spain will want this book.' Alan Massie, Daily Telegraph A bravura new interpretation of the course, causes and characters of the Spanish Civil War, still the twentieth century's bloodiest internal conflict.
Analysis of the Civil War has always focused on victors and vanquished, but what of those who eschewed the struggle, those who stood apart from the carnage and chaos?
Was there a Third Way? Starting at the extreme right of the political spectrum and moving across it to the extreme left, using the emblematic lives of ten key individuals, Preston builds up an astonishingly vivid picture of how the War came to pass, and how those who started, suffered and stopped it were coloured by the experience.
Here are brilliant psychological profiles of the communist firebrand La Pasionaria, of the canny falangist Primo de Rivera, of the aloof intellectual non-participant Salvador Madariaga, and of the enigma himself, Generalissimo Franco. 'Comrades presents us with fascinating portraits, case studies that illustrate variously nobility, arrogance, self-delusion and evil. It remains difficult to comprhend the passions that lead to civil war; but this book helps us to understand.' Michael Portillo, Sunday Telegraph
Information
Format: Paperback
Pages: 416 pages
Publisher: HarperCollins Publishers
Publication Date: 01/05/2000
Category: European history
ISBN: 9780006386964
Free Home Delivery
on all orders
Pick up orders
from local bookshops