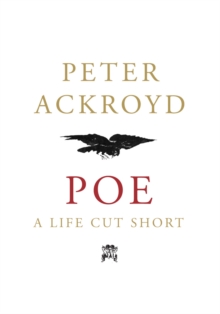 Poe : A Life Cut Short
Hardback
Description
Edgar Allan Poe served as a soldier and began his literary career composing verses modelled on Byron; soon he was trying out his 'prose-tales' - often horror melodramas such as "The Fall of the House of Usher." As editor of the "Literary Messenger" he was influential among critics and writers of the American South.
His versatile writings - including, for example, "The Murders in the Rue Morgue" and "The Raven" - continue to resonate down the centuries.
Peter Ackroyd's biography of Poe opens with his end, his final days - no one knows what happened between the time when friends saw him off on the steam-boat to Baltimore and his discovery six days later dying in a tavern.This mystery sets the scene for a short life packed with drama and tragedy (drink and poverty) combined with extraordinary brilliance.
Poe has been claimed as the forerunner of modern fantasy, and credited with the invention of psychological dramas (long before Freud), science fiction (before H.G.
Wells and Jules Verne) and the detective story (before Arthur Conan Doyle).
Tennyson described him as 'the most original genius that America has produced'. He influenced European romanticism and was the harbinger of both Symbolism and Surrealism.
Peter Ackroyd, who places significance on Poe's childhood (his travelling actor parents were miserably poor, his mother had TB and he was orphaned), claims that Poe found his family among writers - writers not only of his time but of the future generations who were influenced by the power of his imagination.
Information
Format: Hardback
Pages: 176 pages, 8 b/w pages
Publisher: Vintage Publishing
Publication Date: 07/02/2008
ISBN: 9780701169886
Free Home Delivery
on all orders
Pick up orders
from local bookshops
Reviews
Showing 1 - 4 of 4 reviews.
Review by neringros
16/06/2015
Had a slow start on this one.Not sure if it's the writing or the fact that I couldn't stop thinking of the language not being up to par with subject's greatness, but something didn't quite jive here...Overall, book is well written (verbose at times), but it was almost too short for me... Sort of like too quick a documentary that makes you yearn for more information to digest.
This was an incredibly engrossing read, and quite short too which is a bit of a rarity because Ackroyd usually writes books the size of bricks. Also, it was an interesting read in that it left me confused about whether I felt sorry for Poe or thought he was a bit of a bell-end. Which, yes, he was. Even so, his is a rather miserable story and I'd feel bad for him if he didn't bring so much of it on himself. He could have easily been a character in one of his own works, dark, deranged and doomed. It's a wonder that Tim Burton hasn't made a biopic about him with Johnny Depp as Poe.
Review by bsiemens
16/06/2015
It is difficult to separate my thoughts about the man, Edgar Allan Poe, from his biography, by Peter Ackroyd. Poe was certainly a tragic figure. It appears that he, and others close to him, took poetic licence in describing a life. His biographer renders the life through the subterfuge.
Review by lindap69
16/06/2015
skimmed the beginning found the style too encyclopedic