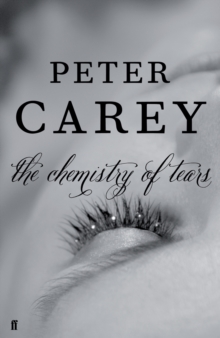 The Chemistry of Tears
Hardback
Description
An automaton, a man and a woman who can never meet, a secret love story, and the fate of the world are all brought to life in this hauntingly moving novel from one of the finest writers of our time.
It's London 2010, Catherine Gehrig, conservator at the Swinburne museum, learns of the unexpected death of her colleague and lover of thirteen years.
As the mistress of a married man she has to grieve in private.
One other person knows their secret, the director of the museum, who arranges for Catherine to be given a special project away from prying eyes.
Mad with grief, the usually controlled and rational Catherine discovers a series of handwritten notebooks telling the story of the man who originally commissioned the extraordinary and eerie automata she has been asked to bring back to life.
With a precocious new assistant, Amanda, at her side, she starts to piece together both the clockwork puzzle and the story of the mechanical creature which was commissioned in 19th century Germany by an English man, Henry Brandling, as a 'magical amusement' for his consumptive son. Having been asked to leave his home by his wife, Henry turns his hurtful departure into an adventure that he records for his young child.
But it is Catherine Gehrig, in a strangely stormy and overheated London nearly two hundred years later, who will find comfort and wonder in reading Henry's story. And it is the automata, in its beautiful, uncanny imitation of life that will link two strangers confronted with the mysteries of life and death, the miracle and catastrophe of human invention and the body's astonishing chemistry of love and feeling.
Information
Format: Hardback
Pages: 288 pages
Publisher: Faber & Faber
Publication Date: 05/04/2012
ISBN: 9780571279975
Free Home Delivery
on all orders
Pick up orders
from local bookshops
Reviews
Showing 1 - 4 of 4 reviews.
Review by Opinionated
16/06/2015
The Chemistry of Tears is bewitching and beguiling. It teases and tempts but ultimately left me unsatisfied. There are two story threads, interwoven; in the first Catherine, a conservator of clocks, is grief stricken from the death of her longtime secret lover - an affair which turns out to be nowhere near as secret as she imagines. To help her recovery, she is given the task of rebuilding an automaton - a mechanical silver swan commissioned and built in the 19th century. In doing this she is helped, and hindered, by her assistant Amanda who seems to be struggling with her own demons, to know rather too much about Catherine, and to have her own agenda for the swan. At the same time Catherine becomes obsessed with the journals of Henry Brandling, the original commissioner of the swan, and these journals make up the second story arcBrandling, the wealthy scion of an eccentric family, travels to Germany looking for a clockmaker who can make a copy of Vaucanson's Digesting Duck for the amusement of his son, stricken with TB. On arriving in Germany he is lead a merry dance by an eccentric group of characters lead by the larger than life clockmaker Herr Sumper, who takes his commission but ultimately refuses to make a copy of the duck, preferring instead to construct the swan. Brandling's frustrations and trials in getting his duck made and worries over his son are mirrored in Catherine's attempts to reconstruct the swan and deal with her own grief.For me, only Catherine's narrative works - her fears and insecurities and slow realisation of her manipulation by the Museum Director, Eric Croft, are convincing and engrossing. But the Brandling narrative frustrated me. It seemed to be structured as a fairy tale, with acts of small magic, lots of getting lost in the forest, and Brandling the innocent quester who cannot quite understand what he sees. But it was all a little mystical for my tastes, and I found my attention wandering whenever Sumper was on his soapbox browbeating Brandling with his fantastical theories.I was also unconvinced by the air of millenial doom, with all the 2010 characters seemingly obsessed by the Gulf Of Mexico oil spill and the suggestion that the machines and mechanisms that hold such excitement for Sumper are now beyond out control and the cause of our destructionBut as always with Carey the writing is funny, engaging and compelling. But I left the book with questions unanswered and the feeling that I had been observing through a keyhole, with things I wanted to know about falling outside my line of sight
Review by ElizaJane
16/06/2015
Reason for Reading: Peter Carey's True History of the Kelley Gang is one of my all time favourite books and I've always meant to read another by the author. With this latest book coming out, the time period and the automata piqued my interest enough to decide to give him another go at this time.I'm not even going to try and analyze just what the hidden, under the surface meanings are in this story, there are plenty but it gives me a headache looking at this book that way. I just want to read it and enjoy a good story. Read it I did but I only found a mediocre story. We start off on the first page meeting the main character, an adulteress, with no redeeming qualities. Her married lover has just died and she is totally wrapped up in herself. She has no cares for his children, whom he loved dearly and we learn that she often was jealous of them. She is quite younger than this man and her life seems to have existed for their relationship together, and her job as an horologist at a museum secondly. That's all, no friends, no family. Catherine, or Cat, as she is commonly called is given a project to restore to help her with her grief by the only person at the museum who knew about her affair.The text alternates between Catherine in the present dealing with her grief, possessiveness and selfishness as she becomes somewhat obsessive over the automata that she and a young assistant, whom she dislikes and distrusts, are working on. Cat is also reading through the ledgers/journals that came packed with the assemblage which gives us the other view. Henry Blanding tells his story set in the 1850s of how he came to a strange little German town and had an even stranger man build his clockwork duck for him. His journal is written to his young son whom he promised this prized possession in hopes that it would make him well, as he is a sickly boy, most likely consumptive. Henry also is not a rather likable fellow. His wife has refused relations with him, denied to care for their son, since their first child, a daughter died the same way. She is loveless to them and Henry is pathetic in his attempts to be all and do all for this cold woman who brings in an artistic crowd to their house to have her portraits painted. Henry is eventually persuaded to leave the house, his search to make the automata his pretence for leaving. While unlike Catherine, Henry does slowly change throughout the book, for the most part he is a weak man, easily taken advantage of, of superior mind of course being an Englishman, and emotionally volatile.There is more to say, but I shan't go on. The basic plot of the two stories was entertaining to read, the writing naturally superb, and I had no problem getting though the book quickly; I'm sure its short length helped matters though. But I had no connection to any of the characters, not liking them, nor caring what happened to them in the end. Not everyone is sane in this story and it's up to the reader to decide who is or isn't sane. Perhaps they are all off their rockers. The ending does little to satisfy this reader.
Review by scatterall
16/06/2015
I agree with other reviewers that the cover is stupid and seriously misrepresents this book. I want to give it four and a half stars. I had no issues with liking the protagonists at all, they are uncomfortable cranky grief-stricken people and I felt strong sympathy and anxiety for both of them. The characters and ideas are developed with a lot of organic mystery and complications that feel well worth re-reading, I think this book is good enough to not be entirely graspable the first time through. I was riveted when the automaton appeared early on, wasn't sure it would pay off but when it is built and displayed the final passage describing it in action could not be more thrilling or satisfactory. Half a point off for some vague and impenetrable spots, which may or may not improve for me if I read it again.
Review by polarbear123
16/06/2015
There are two types of Peter Carey books - the ones like Parrot and Olivier, Jack Maggs and Illywhacker are about amusing stories, well told with intricate detailed characters. This is not one of those. This is more in the stlpe of 'My life as a fake'. If you have read that then you will know what to expect. Yes there is a story but the plot line is not the main focus of the writing here. There is a lot to think about in this book about humanity, love and loss and if you have a philosophical side to you then you will be satisfied. As with any book that deals with personal feelings and the issues surrounding humanity as a whole not all of the author's ideas are going to speak or be clear to you. There are some confusing and bewildering sections in this book but by and large it is well worth a read and a short Carey novel. If it is your first Carey novel though, put it down and read one of the above three, otherwise it might be the last Carey book you read.