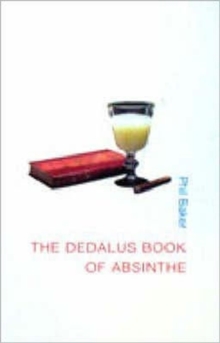 The Dedalus Book of Absinthe
Paperback
Free Home Delivery
on all orders
Pick up orders
from local bookshops
Reviews
Showing 1 - 1 of 1 reviews.
Review by Dead_Dreamer
16/06/2015
Wow. What an absolutely fantastic read. When writing about a subject like this an author could approach it from many avenues. A less creative author may dryly stick to the facts: when/where absinthe was invented, how it's made, and how it's enjoyed. However, Phil Baker decided to tell the story of absinthe or "The Green Fairy" though the eyes (our perhaps mouths) of the drinkers who made it famous (or infamous). Barker includes numerous and lengthy quotes from key figures of the late 19th century: Oscar Wilde, Ernest Dowson, Aubrey Beardsley, Aleister Crowley, Verlaine, Rimbaud, and Baudelaire, for example. He also provides quotes by 20th century notables like Ernest Hemmingway, F. Scott Fitzgerald, and Picasso. He paints a vivid picture of the "Belle Epoch", and how absinthe played a key role in the development of the era's arts and culture. One of my favorite parts is his section on Parisian playwright Alfred Jarry (I'd never heard of Jarry before). Alfred Jarry is famous for inventing surrealist theatre. He was a very bizarre person; dwarfish in height, dyed his hair green, was fond of pistols, and a notorious absintheur. He often wore a ridiculously tall top hat (to make him appear taller), and was known for taking pot-shots at people while drinking absinthe in cafes. He lived in a strange low attic room in Paris. On the way up to his room one would take a winding staircase with bloody handprints covering the walls. Inside his low ceiling hung just inches above his head, so anyone visiting would have to sit or stoop over. Here he would perform bizarre puppet shows. I could go on -- this is just a taste -- unfortunately he died from drinking ether. Baker illustrates how absinthe was poorly (chemically) understood, became the scapegoat for society's ills, and as a result was banned for nearly 100 years. Studies have since shown that absinthe neither causes hallucinations nor drives you mad. Bad batches from days with zero quality control gave it a bad reputation, not unlike bad moonshine. Since absinthe is extremely high in alcohol (averaging about 120 proof -- far greater than most whisky), it's more likely the destructive behavior and health problems associated with absinteurs was simply due to drunkenness and perhaps alcohol poisoning. The author also analyzes modern thought on absinthe. He talks about how due to the ban it's been mythologized and taken on a taboo mystique. Thankfully, after a century, governments have finally come to their senses. The absinthe ban has been lifted in France, Canada, and the US. This book was an incredibly fascinating and humorous read. I couldn't put it down. A can't imagine a better book on the subject. I'll end with a quote from Oscar Wilde regarding absinthe, "After the first glass you see things as you wish they were. After the second, you see things as they are not. Finally you see things as they really are, and that is the most horrible thing in the world."