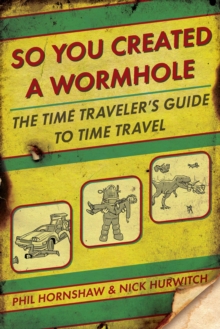 So You Created a Wormhole : The Time Traveler's Guide to Time Travel
Paperback
Description
Welcome, intrepid temporal explorers, to the world's first and only field manual/survival guide to time travel!
Don't Leave This Time Period Without It! Humans from H. G. Wells to Albert Einstein to Bill & Ted have been fascinated by time travel-some say drawn to it like moths to a flame.
But in order to travel safely and effectively, newbie travelers need to know the dos and don'ts.
Think of this handy little book as the only thing standing between you and an unimaginably horrible death-or being trapped forever in another time or alternate reality.
You get: essential time travel knowledge: choosing the right time machine, from DeLoreans to hot tubs to phone booths-and beyond; what to say-and what NOT to say-to your doppelganger; understanding black holes and Stephen Hawking's term "spaghettification" (no, it's not a method of food preperation; yes, it is a horrifically painful way to meet your end); the connection between Einstein's General Theory of Relativity, traversing wormholes and the 88 mph speed requirement; and, the possible consequences of creating a time paradox-including, but not limited to, the implosion of the universe. Survival tips for nearly any sticky time travel situation: how to befriend a dinosaur and subsequently fight other dinosaurs with that dinosaur; instructions to build your very own Rube Goldberg Time Machine; crusading-for fun and profit; tips on battling cowboys, pirates, ninjas, samurai, Nazis, Vikings, robots and space marines; how to operate a microwave oven; and, enjoying the servitude of robots and tips for living underground when they inevitably rise up against us.
Information
Format: Paperback
Pages: 320 pages, Illustrations
Publisher: Penguin Putnam Inc
Publication Date: 27/09/2012
Category: Humour
ISBN: 9780425245583
Free Home Delivery
on all orders
Pick up orders
from local bookshops
Reviews
Showing 1 - 1 of 1 reviews.
Review by DanThompson
16/06/2015
This is satirical guide to time travel, and while the first parts of it were quite funny, the second half flopped down into repetition and lame humor.The first parts included some theories on time travel, mixing farce with science and movies. It also gave us descriptions of the various kinds of time machines, the perils of the various flavors of paradox, and some ideas of what to do if you ever run into yourself or break your time machine.The second half of the book, however, is a repetitive survival guide. It follows the same formula of what to bring, what to fear, and how to fix your time machine in time periods from the dinosaurs to the future. The first one or two time periods were OK, but after a while it started to get repetitive. Long before the end, I found myself skimming and looking briefly at the crazy diagrams.So while it started strong, it almost seemed like they ran out of steam and used the Survival Guide section to pad it out another two hundred pages. So, it made for an OK gift, but I wouldn't spend my own money on it if I had the choice.