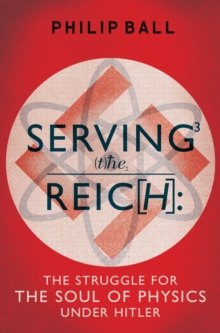 Serving the Reich : The Struggle for the Soul of Physics Under Hitler
Hardback
Description
Serving the Reich tells the story of physics under Hitler.
While some scientists tried to create an Aryan physics that excluded any 'Jewish ideas', many others made compromises and concessions as they continued to work under the Nazi regime.
Among them were three world-renowned physicists: Max Planck, pioneer of quantum theory, regarded it as his moral duty to carry on under the regime.
Peter Debye, a Dutch physicist, rose to run the Reich's most important research institute before leaving for the United States in 1940.
Werner Heisenberg, discovered the Uncertainty Principle, and became the leading figure in Germany's race for the atomic bomb.
After the war most scientists in Germany maintained they had been apolitical or even resisted the regime: Debye claimed that he had gone to America to escape Nazi interference in his research; Heisenberg and others argued that they had deliberately delayed production of the atomic bomb.
Mixing history, science and biography, Serving the Reich is a gripping exploration of moral choices under a totalitarian regime. Here are human dilemmas, failures to take responsibility, three lives caught between the idealistic goals of science and a tyrannical ideology.
Information
Format: Hardback
Pages: 320 pages
Publisher: Vintage
Publication Date: 10/10/2013
Category: History of science
ISBN: 9781847922489
Free Home Delivery
on all orders
Pick up orders
from local bookshops
Reviews
Showing 1 - 1 of 1 reviews.
Review by atticusfinch1048
16/06/2015
Serving the ReichAt the end of the Second World War the allies were chasing down scientists as quickly as possible in a game of cat and mouse not just across Germany but especially around Berlin. The biggest race was that between the USA and Russia and they were looking for physicists specifically so they could put them to use for their own specific purposes using developments that had come about under Nazi Germany. We just have to look at the nuclear physicist and rocket specialist that in some cases were literally smuggled out of Germany to various research facilities the allies had. This book is an interesting explanation as to the development of the importance of science and specifically physics under Nazi patronage and how those scientists used this to their advantage while ignoring the consequences of their actions.This area of historical research has been written about well and often by many others the difference with this book by Phillip Ball is that it is far more comprehensive and well written making it a pleasure to read. What I like about Ball's research and writing is that he does his best to be even handed, while not afraid to point the finger when necessary. While Ball discuss' the physics community at large he also focuses especially on three Noble laureates in Max Planck, Werner Heisenberg and the Dutchman Peter Debye. A lot of the new material in this book comes from the archives of Peter Debye who moved to America in 1940 which makes fascinating reading. I can highly recommend this book as an important addition to the debate on the Sciences during the Nazi Period.