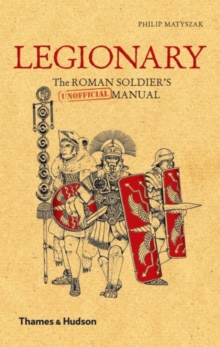 Legionary : The Roman Soldier's (Unofficial) Manual
Hardback
Description
The year is AD100 and Rome stands supreme and unconquerable, from the desert sands of Mesopotamia to the misty highlands of Caledonia.
But the might of Rome rests entirely on the shoulders of the legionaries, who stand strong against the barbarian hordes, pushing back the frontiers of the empire.
This book a kind of unofficial guide for the new recruit, written in the same engaging and informative style as "Ancient Rome on Five Denarii a Day" tells you how to get in and get on in the legions, the best places to serve, life in camp, on campaign and in battle, and such things as how to stop your armour going rusty and how to storm a city.
It will have immense appeal to all those who enjoy ancient history, but who want to be entertained at the same time.
Information
Format: Hardback
Pages: 208 pages, 92 illustrations, 31 in colour
Publisher: Thames & Hudson Ltd
Publication Date: 27/04/2009
Category: European history
ISBN: 9780500251515
Free Home Delivery
on all orders
Pick up orders
from local bookshops
Reviews
Showing 1 - 4 of 4 reviews.
Review by RobertMosher
16/06/2015
I am certain that reading this entertaining and informative book offers a lot more fun than the life of a legionary offered to the original cast. However, I suspect that those in the ranks of Rome's legions who could read and write would have greatly appreciated this "Soldier's Handbook" intended for anyone interested in Rome and its soldiers. Author Philip Matyszak masterfully blends history and humor as he describes how to be a Roman legionary in less than 200 pages, supported by some 90 illustrations including 30 in color.In the first three chapters he tells the reader how to become a Roman legionary and describes his "career" options in Roman military service. Over the next several chapters he discusses life in the legions – the soldier's equipment and what was expected of him, as well as what he could expect if he failed meet the expectations of his commanders! The final chapters describe what a legionary might experience in combat on the battlefield or during a siege, having already listed the enemies of Rome that he would face on that field and each one's unique set of skills and capabilities in combat against Rome.This is a history book and a geography text, and draws upon the latest archaeological work to present a comprehensive view of life in the Roman legions. The main text is accompanied by a glossary and a list of recommended original Roman authors and their writings on the Roman military and their wars. The author also draws on these listed works for the quotes and excerpts with which he presents the various chapters. Legionary is a great introductory text for anyone interested in Rome and not just its armies as well as a handy reference guide for even the expert.
Review by meggyweg
16/06/2015
Matyszak hits the nail on the head again. I haven't read one of his books that I didn't like. This one is, like the others, well-researched, packed with facts, funny and fun to read -- a good book for trying to get people to like history. I do believe he has become one of my favorite nonfiction writers.
Review by NightHawk777
16/06/2015
This is an excellent book.It is written like a handbook, or users guide, for a potential recruit who would be interested in joining a Roman Legion. It's slightly reminiscent of the "Dummies" or "Complete Idiots Guide" type of books, and it really works well here. The layout of the book was nicely thought out. It has many excellent illustrations of the activities being described, statues, battle formations, etc.It is also written in a well encapsulated way. There is a fine touch of humor to the proceedings. I found the subject matter endlessly fascinating. Here are a few quotes taken from the book:"Join the legions, see the world, travel to foreign parts, meet interesting and exotic people, and disembowel them." Paraphrased:"A set of male genitalia required:Some will be pleased to know that Trajan recently decreed that those who have lost but a single testicle can still serve. "Description of a statue:"Centurion proudly displaying the distinctive transverse crest on his helmet.....and in one hand he carries the vitis, his vine-stick for whacking legionaries"One chapter is titled "People who will want to kill you".Highly recommended for a fun romp through some ancient history.
Review by castiron
16/06/2015
A very readable look at the life of the Roman soldier, from enlistment to retirement, training to battle, and all the little details in between. My knowledge of Roman history is spotty, but the author provides enough context that I'm not lost. (And many of the quotations suggest that soldiers are the same, whatever the era....)