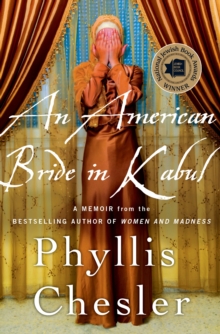 An American Bride in Kabul : A Memoir
Hardback
Description
Few westerners will ever be able to understand Muslim or Afghan society unless they are part of a Muslim family.
Twenty years old and in love, Phyllis Chesler, a Jewish-American girl from Brooklyn,embarked on an adventure that has lasted for more than a half-century.
In 1961, when she arrived in Kabul with her Afghan bridegroom, authorities took away her American passport.
Chesler was now the property of her husband's family and had no rights of citizenship.
Back in Afghanistan, her husband, a wealthy, westernized foreign college student with dreams of reforming his country, reverted to traditional and tribal customs.
Chesler found herself unexpectedly trapped in a posh polygamous family, with no chance of escape.
She fought against her seclusion and lack of freedom, her Afghan family's attempts to convert her from Judaism to Islam, and her husband's wish to permanently tie her to the country through childbirth.
Drawing upon her personal diaries, Chesler recounts her ordeal, the nature of gender apartheid - and her longing to explore this beautiful, ancient, and exotic country and culture. Chesler nearly died there but she managed to get out, returned to her studies in America, and became an author and an ardent activist for women's rights throughout the world.
An American Bride in Kabul is the story of how a naive American girl learned to see the world through eastern as well as western eyes and came to appreciate Enlightenment values.
This dramatic tale re-creates a time gone by, a place that is no more, and shares the way in which Chesler turned adversity into a passion for world-wide social, educational, and political reform.
Information
Format: Hardback
Pages: 256 pages, 8 pg b&w glossy insert
Publisher: Palgrave Macmillan
Publication Date: 01/10/2013
Category: Memoirs
ISBN: 9780230342217
Free Home Delivery
on all orders
Pick up orders
from local bookshops
Reviews
Showing 1 - 3 of 3 reviews.
Review by amandacb
16/06/2015
I really wanted to enjoy this memoir since it ostensibly presents an interesting perspective, but unfortunately I could not get past the utterly reprehensible writing style. Too many repetitive and choppy sentences obviated the author's message, if any, and unfortunately ruined the entire literary experience.
Review by DubaiReader
16/06/2015
Not what I had expected.This book started out well, but I lost interest when the author started to use it as a platform for her views on feminism and the American attitude to the Middle East, particularly Afghanistan.I was immediately drawn into the love affair between Phyllis and her Muslim, Afghani boyfriend, Abdul-Kareem. Phyllis is Jewish, living and studying in America, when they meet. The mistake she made was to follow him to his own country, where she suddenly found she had none of the freedom she'd been accustomed to in US. Her passport was confiscated and she became a chattel, just one of the things that Abdul-Kareem owned. She had no rights and no way out.In fact, she was not in Afghanistan for very long and this part of her story takes up only a section of the book. The following extended essay on female rights was a struggle to read. I was waiting to hear what the outcome of the relationship would be, as we know that they stayed in touch, but this information was a long time coming and buried in amongst a lot of rambling and references to books written by other authors.Overall, this was a disappointing read but it does contain a great bibliography of almost all the memoirs written about life in Afghanistan and the Middle East.
Review by Sovranty
27/08/2015
The description of this book would lead you to believe (or at least I believed) that it is a chronicle of the unexpected and torturous life of an unprepared American female in a foreign Islamic country after being married to someone she thought she knew. In reality, it was a 10-week ordeal that is being reiterated from bits of a diary that was kept during that time. However, one wonders of the diaries credibility, as the author admits to not even remembering some of the events that happened (like being beaten). She continues to have a loving and respectful relationship with her ex-husband and his current family. While the unpleasantness of purdah is not to be argued, Chesler may have been made more unhappy by the lack of luxury, food and constant companionship of her husband, which she was accustomed.The second half of the book is a mere reiteration of the books that came before and after this one detailing the subordination of females in this culture and how those cultural norms are immigrating with the people to new countries.