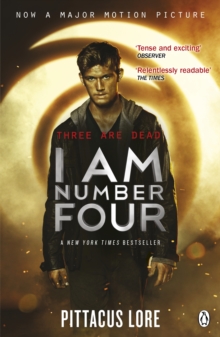 I Am Number Four : (Lorien Legacies Book 1)
Paperback
Description
I Am Number Four by Pittacus Lore - the film tie-in!
They killed Number One in Malaysia. Number Two in England. And Number Three in Kenya.John Smith is not your average teenager.
He regularly moves from small town to small town. He changes his name and identity. He does not put down roots. He cannot tell anyone who or what he really is. If he stops moving those who hunt him will find and kill him.But you can't run forever.
So when he stops in Paradise, Ohio, John decides to try and settle down.
To fit in. And for the first time he makes some real friends. People he cares about - and who care about him. Never in John's short life has there been space for friendship, or even love.But it's just a matter of time before John's secret is revealed.He was once one of nine.
Three of them have been killed. John is Number Four. He knows that he is next . . .Praise for Pittacus Lore:'Tense, exciting, full of energy' Observer'Relentlessly readable' The Times'Set to eclipse Harry Potter and moody vampires.
Pittacus Lore is about to become one of the hottest names on the planet' Big Issue'Tense, keeps you wondering' Sunday TimesPerfect for fans of The Hunger Games - I Am Number Four is the first book in Pittacus Lore's Lorien Legacies series and is now a major Disney film.
Look out for the next books in the Lorien Legacies, The Power of Six and The Rise of Nine.
Information
Format: Paperback
Pages: 400 pages
Publisher: Penguin Books Ltd
Publication Date: 27/01/2011
Category: Thrillers (Children's/YA)
ISBN: 9780241953570
Other Formats
Paperback from £7.09
EPUB from £4.99
Free Home Delivery
on all orders
Pick up orders
from local bookshops
Reviews
Showing 1 - 5 of 8 reviews.
Previous | Next
Review by MrsBakitch
16/06/2015
The cover of this book does not do it justice. This was a fantastic read and I couldn't put it down. This is a must read. Can't wait to read the next in the series.
Review by moosenoose
16/06/2015
"There were nine of us who escaped……Number one was killed in Malaysia. Number two was murdered in England. Number three was hunted down in Kenya. Before they come for the others, they'll come for me…..I AM NUMBER FOUR. I know that I am next." I loved this book. I haven't read a good fantasy book for ages and seeing the preview for the movie adaptation made me want to buy this. I was not disappointed. This story is about John Smith, a teenager who moves from town to town, changing his name and never putting down roots. He cannot tell anyone who he is and if he stops moving, those who hunt him will find him and kill him. This book has action, suspense, combat, love and sorrow. It had me on the edge of my seat from page one and I cannot wait to read the next book in the series. Pittacus Lore is a genius.
Review by elmyra
16/06/2015
Fast-paced (think Dan Brown - it event starts with one of those "Fact" statements), badly written and full of clichés. The "science" is utterly ludicrous too, the level of writing is suitable for eight-year-olds. I *think* Six and the vapid girlfriends exchange a couple of words that if you squint hard enough you might see as passing Bechdel. Again, not good enough - Bechdel fail.
Review by br13cowi
16/06/2015
The book I Am Number Four by Pittacus Lore is by far the best book I have ever read. I love the plot the Author made the book into and want to find out more on how he came up with these fantastic ideas for the story. This book has everything from action, romance and so much more. I suggest that everyone reads the book and I would give it 4.5 out of 5 stars. I can't wait to start the next two books that go along with this epic adventure.In this story John Smith, a 15-year-old alien from the planet Lorien, and Henri Smith, his guardian Cepan, runs from the Mogadorians, another alien race that is hunting John and eight other teenage Lorics on the planet Earth. They killed the first 3 Lorics on the planet and now it is John's turn to be killed by the Mogadorians. John and Henri keep the move on as they leave Florida. Henri tells him they are going to Paradise, Ohio. Henri produces a new identity for Four, giving him the name "John Smith." In Paradise, Ohio John faces many new experiences. John later falls in love with the beautiful Sarah Hart. John finds himself caught up in life and is now surrounded by the evil Mogadorians. Find out if John makes it out alive in I Am Number Four.
Review by nicola26
16/06/2015
Overall, I really did enjoy this one. It was definitely different than anything I've ever picked up before, as it was my first venture into the genre. The story kept me hooked from the beginning, and I only managed to put it down a couple of times. It wasn't perfect though- it was VERY predictable, especially the dog storyline, and what happened at Halloween. I kind of wished it had started with life on Lorien, because it seemed really interesting. I liked John, and Henri was very intriguing. I liked it for the most part, and really want to see what happens next.
Also in the The Lorien Legacies series | View all