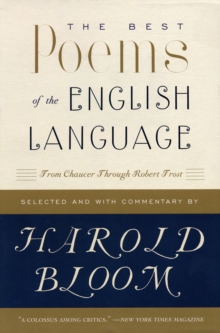 The Best Poems in the English Language: From Chaucer through Robert Frost
Paperback
Description
Almost all other poetry anthologies have been edited and annotated by a committee of scholars.
This is entirely Bloom's selection with his own inimitable commentary.
This comprehensive anthology attempts to give the common reader possession of six centuries of great British and American poetry.
The book features a large introductory essay by Harold Bloom called "The Art of Reading Poetry," which presents his critical reflections of more than half a century devoted to the reading, teaching, and writing about the literary achievement he loves most.
There are also headnotes by Harold Bloom to every poet in the volume as well as to the most important individual poems.
Much more than any other anthology ever gathered, this book provides readers who desire the pleasures of a sublime art with very nearly everything they need in a single volume.
It also is regarded by its editor as his final meditation upon all those who have formed his mind.
Information
Format: Paperback
Pages: 1008 pages
Publisher: HarperCollins Publishers Inc
Publication Date: 07/08/2007
Category: Literary studies: poetry & poets
ISBN: 9780060540425
Free Home Delivery
on all orders
Pick up orders
from local bookshops
Reviews
Showing 1 - 2 of 2 reviews.
Review by badger-jc
16/06/2015
No clarifications of difficult words or annotations
Review by catfantastic
16/06/2015
The fault of <i>The Best Poems of the English Language</i> is the problem that all anthologies have: the limitations of space and the fact that, while trying to include as wide a variety of poets as possible, one is reduced to reading only a few fragmentary pieces of each one. But, it is fantastic to have such a wide range of splendid, beautiful verse in one volume and serves as a good introduction to a wide range of poets, who's complete works can then be sought out by the reader. I have to admit to being of two minds about editor Harold Bloom's introductory essay. When he delves into analysis he is insightful and interesting, particularly his observations regarding artists conciously and unconciously building from the work of previous masters. On the other hand, Bloom can really come across as a snob. In his frequent digressions into "bad" poetry - and Edgar Alan Poe is his favourite whipping boy here - he grows tiresome - especially considering that his criteria for judging "good" poetry is so vague. "Inevitable wording" oh, that poet used <i>inevitable</i> wording. As far as I see, all that means is that Bloom prefered the sound of it, which is fair enough, we all have our favourites and you can only pack so many poems into one anthology, but does he really need to attack the poets (well mostly just poor Poe) that he doesn't like? Bloom's introductions to various poets are inconsistent in length and usefulness. While some are interesting and informative, others are actually embarrassing. Or perhaps I am not clever enough to grasp the nuances of an introduction to Lewis Carroll that devolves into a defense of pedophilia (oh, those eleven year old enchantresses!) an attack on groups trying to prevent sexual harrassment and then culminates with an attack on a totally unrelated author. Seriously, what did J.K. Rowling ever do to you? And isn't this a book on <i>poetry</i>? In any case the poems themselves are wonderful, and offer a fantastic overview of English and American poetry from Geoffrrey Chaucer to Hart Crane. A very fine collection of poems, since I do love most of the poets and the pieces featured here, and I am very glad to have a copy of the book in my personal library.