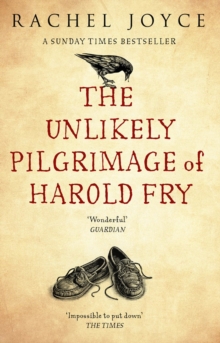 The Unlikely Pilgrimage Of Harold Fry
Paperback
Description
When Harold Fry nips out one morning to post a letter, leaving his wife hoovering upstairs, he has no idea that he is about to walk from one end of the country to the other.
He has no hiking boots or map, let alone a compass, waterproof or mobile phone.
All he knows is that he must keep walking. To save someone else's life. "The odyssey of a simple man, original, subtle and touching." (Claire Tomalin). "From the moment I met Harold Fry, I didn't want to leave him.
Impossible to put down." (Erica Wagner, "The Times").
Information
Format: Paperback
Pages: 384 pages, chapter heads
Publisher: Transworld Publishers Ltd
Publication Date: 01/01/2013
ISBN: 9780552778091
Free Home Delivery
on all orders
Pick up orders
from local bookshops
Reviews
Showing 1 - 4 of 4 reviews.
Review by PIER50
16/06/2015
Beautifully written, this gentle book takes us on both an emotional and physical journey through the spine of England, finishing in Berwick upon Tweed. The ending is by turns sad, funny and life affirming.
Review by foolplustime
16/06/2015
Very often, when I'm enjoying a book, I experience a certain amount of trepidation about where it's going to end up. Many a promising book has fallen apart in the last third, usually because a clever premise lacks the necessary legs, or an equally clever conclusion, or the not-clever conclusion doesn't offer anything else to make it worth the journey (like character, or writing, or setting).This book did not do that. This is one of the few books I've read where I had total confidence in the author from the off. I loved it even more by the end than I did at the beginning, and that is a rare, rare thing for me.Sure, I could sit here and make pedantic comments about what would actually happen if you tried walking to Berwick in unsuitable shoes, or complain that there are no great surprises plot-wise, but those things didn't matter because this is wonderfully written and has well-drawn characters who are relentlessly human. It's sad, it's funny, it has buckets of charm which never risks becoming saccharine thanks to the emotionally true (and *raw*) undercurrents. I had to stop reading it in the Post Office queue because I was wearing mascara at the time. So, yes. I loved it utterly. Normal cynical service will be resumed forthwith.
Review by pamjw
16/06/2015
What an utterly beautiful book.Harold Fry goes to post a letter in response to one from a name from the past, Queenie Hennessy. As he gets to the post box, he decides that is not enough, and that he must go beyond that. So unfolds his journey walking the length of most of England. Along the way he has time to think over his past, his relationship with his parents, his wife and son, and also with Queenie.At it's core this is a heart-wrenching book as Harold reflects on his life; and, home-alone, so does his wife. It is a real study of human relationships and the things that can take over without us realising them.We are kept guessing on the actual truth right up until the end of the story.Anyone who has any interest in human beings will enjoy this book.
Review by What_Katie_Read
27/08/2015
Loved this book and finished on a recent flight. Review to follow on blog soon!