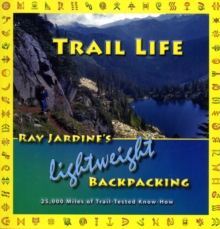 Trail Life : Ray Jardine's Lightweight Backpacking
Paperback
Description
This is Ray Jardine's new, full-colour, 2009 edition of his best-selling book "Beyond Backpacking".
Now full of colour photos and diagrams, this new title reflects a multitude of updated information, detailing Ray Jardine's lightweight backpacking techniques, his gear, and his methods for enjoyable and safe trekking and camping.
Sections and chapters include Packweight, Equipment, Food, Water, Trail Biology, Sewing Your Own Gear, Hiker's Well-Being, Wilderness Skills, Insects, Long-Distance Trekking, a chapter specifically for women, and much more. "Trail Life" will be the new standard reference book for the backpacker.
If you have ever thought your pack weighed too much on a week long hike, this book shows hikers how to cut the weight out and explodes myths about heavy equipment.
This is the most comprehensive long distance trekking guide ever written.
A lightweight approach to backpacking is here to stay. "Trail Life" is for all hikers, at all levels of experience, from beginners to the most advanced.
It includes 400 pages, over 50 chapters with more than 230 colour photos. The author and his wife have hiked well over 25,000 miles along all the well known trails as well as a myriad of other routes.
Their experiences will prove to be an invaluable guide for those who love to hike and those who seek the solitude of the outdoors.
Information
Format: Paperback
Pages: 400 pages, 230 colour photos
Publisher: AdventureLore Press,U.S.
Publication Date: 04/01/2009
Category: Walking, hiking, trekking
ISBN: 9780963235978
Free Home Delivery
on all orders
Pick up orders
from local bookshops
Reviews
Showing 1 - 1 of 1 reviews.
Review by kukulaj
16/06/2015
It is much more efficient to travel through the wilderness in a way that works with the changing conditions, being sensitive to them, instead of using an array of tools to isolate oneself from one's environment. Why does one want to travel through the wilderness? One interesting question: can one be in the wilderness without traveling through it? One of Jardine's methods is to cook in one place, near water, but then to sleep at a higher elevation, away from water. So that involves a certain amount of daily movement already. Then, too, wilderness implies a significant distance from food supplies - Jardine is not discussing living off the land. So being in the wilderness involves periodic trips to supply points. Jardine and his wife take very long trips, like a month or two at maybe 30 miles per day. The Appalachian Trail, the Pacific Crest Trail - end to end. To cover such distances in one season of good weather, one would need to move quickly, and therefore keep one's load quite light. Jardine's book tells us how he did it, covering very many aspects of his approach. It's a very intelligent book. He has worked out his technique, and shares with us the logic behind what he does along with the details. Jardine is definitely unconventional, at least he himself doesn't much follow convention - though it seems he often enough establishes convention! And he advises us to follow his underlying method, which is to figure out for yourself what you need and then just do what you need to do without getting wrapped up in other people's angles, especially the angles of outdoor product marketing. Jardine recommends sewing your own tent, sleeping covers, clothes, etc. He stops short of making his own shoes, but he is not deterred from cutting shoes up or modifying them radically to make them serve his purposes. It's an inspiring book! I don't envision any thousand mile hikes for myself, but the idea of becoming more sensitive to the environment and working with it to be more efficient and enhance one's experience, this is a great approach for live in general. And more particularly, for spending time in the wilderness. My imagination runs less toward walking all day and more toward meditation, but still with enough traveling to get to and from supply points etc. Perhaps sticking with a single supply point and just exploring all the terrain within just a dozen hours or so of travel, spread across a few days. Jardine's logic could easily be adapted to some such alternate approach to wilderness travel.