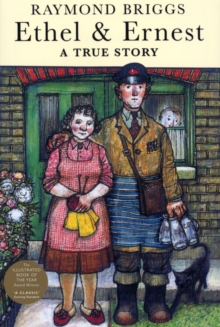 Ethel and Ernest
Paperback
Description
Utterly original, deeply moving and very funny, Ethel & Ernest is the story of Raymond Brigg's parents' marriage, from their first chance encounter to their deaths told in Brigg's unique strip-cartoon format.
Nothing is invented, nothing embroidered - this is the reality of two decent, ordinary lives of two people who, as Briggs tells the story, become representative of us all.
The book is also social history; we see the dark days of the Second World War, the birth of the Welfare State, the advent of television and all the changes which were so exhilarating and bewildering for Ethel and Ernest.
A marvellous, life-enhancing book for all ages.
Information
Format: Paperback
Pages: 104 pages, colour illustrations
Publisher: Vintage Publishing
Publication Date: 03/09/1998
Category: Comic book & cartoon art
ISBN: 9780224046626
Free Home Delivery
on all orders
Pick up orders
from local bookshops
Reviews
Showing 1 - 2 of 2 reviews.
Review by iftyzaidi
16/06/2015
This is probably Raymond Briggs' (author of When the Wind Blows) most personal graphic novel. It tells the story of the lives of his parents in brief vignettes, from the time they first met, she a lady's maid and he a milk deliveryman till their deaths in 1970 and 1971 respectively. Its obviously a labour of love and in the course of the tale, one grows to know both as warm-hearted, kind people very much in love with each other. Whether its the wonder of buying their own home, disagreements over politics (Ernest is a staunch supporter of labour while Ethel puts her faith in the gentlemen of the conservative party), their joy when their only son qualifies for grammar school or their consternation when he decides to take up art, one can't help but be moved by the way they respond to their changing fortunes, both good and bad. Nor can one fail to be moved by the devotion of their son in penning and painting this work of art in their memory.
Review by SandDune
16/06/2015
A short and very touching yet unsentimental portrait of the author's parents, from their first meeting to their deaths over forty years later. Ethel (born 1894) and Ernest (born 1900) live lives that must have been typical of many people of their generation, and the book can almost be read as a social history of Britain in the twentieth century. This is a book that is made up of the small and insignificant events that constituted ordinary people's lives: a baby is born, the Second World War comes and goes, but there is a deep sense of continuity as their day to day life continues.Ernest, a milkman, is a lifelong Labour party supporter, with strong hopes of seeing the rise of the working man as the Labour government takes power after the war. Ethel is adamant that they are not 'working-class' and has aspirations both for herself and for her son Raymond, which seem to be being fulfilled as he wins a place at grammar school. But these are aspirations which she can't quite bring herself to believe or act upon. One of the most poignant scenes in the book was when the old and sick Ethel is wheeled by her husband past a derelict and boarded-up building in the local park, a place that forty years previously had been a smart cafe which she had longed to visit: in all the time it had been open she had never been in, considering it too posh for people like them. Ernest's enthusiastic embrace of technological progress in most of its forms contrasts hugely with Ethel's reluctance: she is naturally suspicious of anything new. But both are equally confused by the changes in society brought by the 50's and 60's, in particular their son's desire to be an artist rather than get a steady job. One of the reasons that I liked this so much was that the characters seemed so real. They were almost exact contemporaries of my own grand-parents and I could certainly recognise aspects of my grandparents and other older relatives in Ethel and Ernest; Ernest's rages against politicians and other aspects of the modern world certainly remind me of my grandfather. There is even a little bit of Ethel in my mother with her extreme reluctance to take on new technology. And it is clear that Raymond Briggs bases aspects of the characters for his other books on those of his own parents. So a great graphic memoir - recommended.