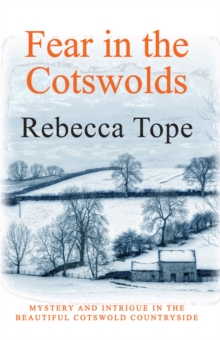 Fear in the Cotswolds
Hardback
Description
Following a string of disastrous house-sitting assignments, and with troubles in her recent personal life, Thea Osborne is understandably apprehensive about her latest commission: a wintery month in an isolated farmhouse with only an assortment of animals, including her loyal spaniel Hepzie, for company.
With the summer lushness of the Cotswolds turned icy grey, Thea spends her first few days exploring the tiny but beautiful hamlet of Hampnett, and the nearby town of Northleach.
While discovering more of the surrounding area she meets some of the mysterious local characters: the unappreciated au pair from Bulgaria and the elusive Kate from a neighbouring farm.
But then the weather turns extreme, and so do events.
When she stumbles across a man lying dead in a snow-filled field, Thea is once again at the heart of a mystery in the gorgeous Cotswold countryside.
Information
Format: Hardback
Pages: 384 pages
Publisher: Allison & Busby
Publication Date: 16/11/2009
Category: Crime & mystery
ISBN: 9780749007478
Free Home Delivery
on all orders
Pick up orders
from local bookshops
Reviews
Showing 1 - 1 of 1 reviews.
Review by reading_fox
16/06/2015
Continuation of Thea Osborne's house sitting adventures in the Cotswolds. This is her longest stay to date, a whole month in an isolated barn conversion during January. Thea has plenty of animals to care for, rabbits, cat , donkey and a ill looking greyhournd who fortunetly gets on well with her own spaniel. Then an atypical british winter descends with several inches of snow causing chaos all around. Thea loses some of her detached calm when she spots a set of unknown footprints traking acorss her prisitine white yard. She girds her loins and follows them - as all the readers would expect she finds a body in the snow, and returns home to summon police assistance. However this won't be her former lover Phil Hollis because Thea broke up with him, despite how her thoughts frequently return to him. Eventually the polic do arrive - along with the local photographer, only to discover no body lying in the snow covered field. Thea is sure she wasn't mistaken and that the man was really dead, but can concieve of no other explanation other than that he was merely comatose and recovered sufficiently to return to wherever his home was. The weather makes the police disinclined to search a wider area.Otherwise much the same, and as enjoyable, as the other in the series. Thea's wise head keeps the worst of the introspection at bay, and apart from a tirade at a police woman (who rightly asserts that the UK is a <i>long</i> way from being a police state), there are a few other comments on the social life in the UK. These always serve to spice up what could otherwise be a balnd book - topics include the role of the fmaily and how we percieve others, and even metaphysically ow are perception of them can influence their actions. Sadly there is no time or space in the story for the full explanation of how this would resolve in the case of the lives of the two children who become embroiled in Thea's visit. Indeed we don't even get the details of the whole month's stay.The only downside is the (ever present) overly sociable police. They just don't go around handing out details of cases to the pubic, even when they're looking for help. Other than that fully enjoyable, a good description of english life and how coping with a few inches of snow really is that hard when you aren't prepared for it, amoungst all the usual village fare.