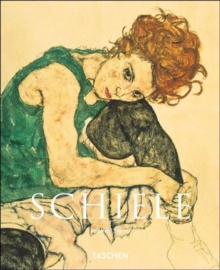 Schiele: Basic Art Album
Paperback
Description
Egon Schiele (1890-1918) - along with Oskar Kokoschka - is the painter who had the most long-lasting influence on the Vienna art scene after the great era of Klimt came to a close.
After a short flirtation with Klimt's style, Schiele soon questioned the aesthetic orientation to the beautiful surface of the Viennese Art Nouveau with his rough and not easily accessible paintings.
Many contemporaries found his expressive nudes and self-portraits, with their strange movements and morbid colours, to be ugly and even morally objectionable - criticism which culminated in criminalizing the painter as "obscene" and resulted in 1912 in an indictment and short jail sentence.
However, not even his harshest critics could dispute however the artist's extraordinary drawing talent.
Free Home Delivery
on all orders
Pick up orders
from local bookshops
Reviews
Showing 1 - 1 of 1 reviews.
Review by bjeans
16/06/2015
I'm going to resist listing all of the Egon Schiele Books I've read because really, the guy died at 28, there isn't too much to report about his career. All the books pretty much say the same thing. However, what little they have is enough to prove this guy was beyond his contemporaries. Excellent draftsman, superb eye for form (from a new perspective at that time period), his art is evocative and risqué. He lived 100 years ago and his art can still pass as modern as well as his hair style...no joke, check him out.