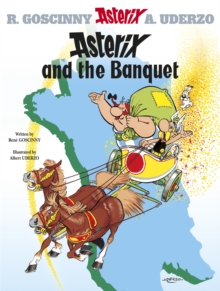 Asterix and the Banquet : Bk. 5
Paperback
Part of the Asterix series
Description
Gaul, now France, has always been famous for its food and drink - so when, for a bet with the Romans, Asterix and Obelix travel round collecting local delicacies they start on the journey home with all sorts of goodies.
First, however, they must outwit the thieves Villanus and Unscrupulus. And who's that little dog who has been following them all the way?
Free Home Delivery
on all orders
Pick up orders
from local bookshops
Reviews
Showing 1 - 1 of 1 reviews.
Review by David.Alfred.Sarkies
16/06/2015
For some reason after rolling on the floor in laughter with Asterix the Gladiator this one seems to pull back a notch. I guess one of the problems was that we are sort of introduced to Fulliautomatix in this book but it is not the Fulliautomatix that we know and love. In fact when he appears he pretty much looks like the standard Gaul. However this is still one of the earlier albums so the concept is still in development.The Romans come up with a new idea to attempt to pacify this rebellious Gaulish village in the north of Amorica and that is to impose economic sanctions, and they do this by building a stockade around the village so that while nobody can get in and theoretically nobody can get out. As a bet Asterix and Obelix decide to go on a tour of Gaul collecting food for a banquet which they will throw when they get back. Getting out of the village was easy, they just bashed through the wall, but as they travel around Gaul they have the Romans hot on their tails attempting to prevent them from returning home and winning the bet.This album sees the first appearance of Dogmatix, Obelix's dog. In fact his introduction is actually really clever in that one minute he is not there and the next minute he is running after them. When I suddenly discovered Dogmatix following them I had to backtrack to find out where he first appears, and it is outside a meat shop in Lutetia. However, neither Obelix or Asterix seem to actually realise that there is this little dog following them all over Gaul, that is until they get back to the village and Dogmatix barks attracting Obelix's attention. It is also cute not only how you see him following them everywhere, but whenever they go inside, Dogmatix parks himself outside the door and waits for them to come out again, and then he continues following them.I know the following is probably a bit deep for an Asterix comic, but then again I never said that Asterix comics were not satirical. What we see here is the strategy where if the enemy cannot be beaten in direct combat or overrun immediately, you settle in to protracted siege warfare. In a sense besieging the village is really going to have little economic effect because it is clear throughout the comics that this little village is self contained, with fish in the ocean and boar in the forests. What the Romans want is to isolate this village so that their ideas cannot spread out to the rest of Gaul and thus undermine Roman rule. What Asterix and Obelix are doing is demonstrating that there is nothing the Romans can do to keep them bottled up, and as they continue travelling around Gaul you see a larger and larger following in support of them.Once again the names come into play, though I must admit that it is very evident that some of the puns that were used in the original have not translated across all that well. However there are two incidents where they are betrayed, and it is very evident the nature of these characters by their names, for instance Uptotrix. It appears that the writers use of the names is to pretty much define the character, as well as a form of pun. As I said this is not one of the best, but enjoyable nonetheless.