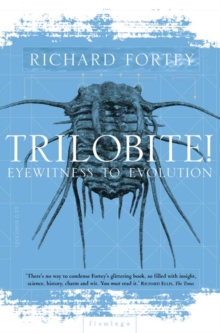 Description
`In Richard Fortey's capable hands the humble grey trilobite has been transformed into the E.T. of the Lower Palaeozoic - a remarkable and fascinating book.' SIMON WINCHESTER Richard Fortey is one of Britain's leading popular scientists.
Life: An Unauthorised Biography, was short-listed for the Rhone Poulenc prize and has been reprinted five times.
In all he writes, Fortey displays extraordinary range, delight and descriptive gifts which make complicated scientific facts and concepts not only easy to understand but a delight to absorb. Trilobite! is an unashamedly trilobito-centric view of the world unravelling the history of the exotic, crustacean-like animals which dominated the seas for three hundred million years.
These arthropods witnessed continents move, mountain chains elevated and eroded; they survived ice ages and volcanic eruptions, evolving and adapting exquisitely to their environment.
They watched through their crystal eyes whilst life evolved.
Their own evolution calibrated geological time itself. Structured like a detective story, this is a light, but highly informative account of the wonders of scientific discovery and an engaging, quirky and fascinating introduction to evolution.
Information
Format: Paperback
Pages: 256 pages, 132 b/w illus
Publisher: HarperCollins Publishers
Publication Date: 05/03/2001
Category: Popular science
ISBN: 9780006551386
Other Formats
Paperback from £29.85
EPUB from £33.61
PDF from £33.61
Free Home Delivery
on all orders
Pick up orders
from local bookshops
Reviews
Showing 1 - 2 of 2 reviews.
Review by MyopicBookworm
16/06/2015
Before I read this book, I thought of trilobites as a slightly boring group of fossil arthropods, ubiquitous from the Cambrian to Permian periods, useful as index fossils but not exactly scintillating. Who could get excited about hundreds of petrified woodlice? Now I'm converted: they are really quite fascinating. Fortey is hugely enthusiastic, and his enthusiasm comes across well, even when explaining something as arcane as the optical properties of calcite. His style is eminently readable, if you can cope with arabesque flights of fancy, laced with fairly dreadful puns, and a slightly desperate thread of literary allusions. The book is disorganized, baroque, and constantly engaging; the author comes across as one of those mad scientists who is really quite sensible underneath.MB 6-xi-2010
Review by shanaqui
16/06/2015
Normally I quite like Richard Fortey's chatty style, but I think maybe there was a bit too much of it, here. He got me interested in geology, so he should've been able to keep me interested in trilobites, but sadly my interest did start to flag. The slight self-deprecating note of some of his other books isn't as much in evidence here, and he definitely came across as more British and more stuck up without that to mitigate it a bit and make him a bit less of a cliché.Trilobites are still interesting, and I'd love to go hunting for them in old shale, but I wanted more focus on the trilobites and less on Richard Fortey.