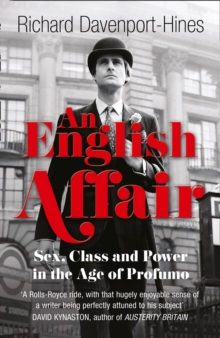 An English Affair: Sex, Class and Power in the Age of Profumo
Paperback
Description
WINNER OF THE POLITICAL BOOK AWARDS POLITICAL HISTORY BOOK OF THE YEAR 2014.
Published to coincide with the fiftieth anniversary of the Profumo scandal, An English Affair is a sharp-focused snapshot of a nation on the brink of social revolution.
Britain in 1963 - Harold Macmillan was the Prime Minister of a Conservative government, dedicated to tradition, hierarchy and, above all, old-fashioned morality.
But a breakdown of social boundaries saw nightclub hostesses mixing with aristocrats, and middle-class professionals dabbling in criminality.
Meanwhile, Cold War paranoia gripped the public imagination.
The Profumo Affair was a perfect storm, and when it broke it rocked the Establishment.
In 'An English Affair', the author of the critically-acclaimed 'Titainic Lives' Richard Davenport-Hines brings Swinging London to life.
The cast of players includes the familiar - louche doctor Stephen Ward, good-time girls Christine Keeler and Mandy Rice-Davies, and Secretary for War John Profumo himself.
But we also encounter the tabloid hacks, property developers and hangers-on whose roles have, until now, never been fully revealed. Sex, drugs, class, race, chequebook journalism and the criminal underworld - the Profumo Affair had it all.
This is the story of how Sixties England cast off respectability and fell in love with scandal.
Information
Format: Paperback
Pages: 352 pages
Publisher: HarperCollins Publishers
Publication Date: 06/06/2013
Category: True stories
ISBN: 9780007435852
Free Home Delivery
on all orders
Pick up orders
from local bookshops
Reviews
Showing 1 - 1 of 1 reviews.
Review by Eyejaybee
16/06/2015
It is now fifty years since John Profumo resigned both as a government Minister and as MP for Stratford upon Avon as a consequence of his involvement with Christine Keeler. His resignation had become unavoidable, not so much because he had had extra-marital sex with Keeler but because he had earlier made a personal statement to the House of Commons denying that he had done so. That is probably the only aspect of the "received" version of the story that is beyond dispute.Profumo's position in the Government was as Minister for War, and his dalliance with Keeler occurred during the months culminating in the Cuban Missile Crisis, when the world came to the brink of nuclear war. What weakened Profumo's position further was the revelation that, during her affair with Profumo, Keeler had also been sleeping with Yevgeni Ivanov. Just a year earlier Tam Galbraith, one of the Civil Admiralty Lords, had had to resign because of public suspicion of impropriety behind letters that he had sent to John Vassall, an official in the Admiralty who was subsequently convicted of espionage. Against that context the perception that a Minister of State might be sharing a mistress with a Soviet military attache was unacceptably damaging.The role of villain of the piece, however, fell not to Profumo, nor even to Keeler, but to Stephen Ward who was publicly vilified as a procurer of prostitues and a pimp of the most unwholesome variety. Following Profumo's resignation Ward was prosecuted for living off immoral earnings. Lord Denning's official report into the "Profumo Affair" (which was certainly an engaging and fascinating read in itself) went out if its way to pillory Ward and poison his reputation. Ward was never convicted - shortly before the end of the trial he took an overdose, dying in agiony in hospital three days later.Davenport-Hines has revisited the affair, and in his deeply-researched book he paints a clear context against which all the events took plae. He also challenges the popular understanding of what actually did happen. Ask anyone about the Profumo Affair and they will say that one of the key factors was Keeler sleeping with Ivnov, but the only evidence that this ever happened was a sloppily written newspaper article by Keeler, already known as a compulsive liar, for which she was paid £1,000, (a huge fortune in 1962). Ivanov himself was never questioned about Keeler, and throughout the investigations of goings-on no-one else ever referred to Ibvanov sleeping with Keeler.The portrayal of Ward as a procurer and pimp is also very questionable. It is clear that he was an unwholesome character, but it is equally clear that the police case against him was manufactured from start to finish, and the fact that he was prosecuted at all was an utter miscarriage of justice.Davenport-Hines shows very clearly how the Profumo Affair rocked British society. The Press used the fraying of the Establishment to secure its seemingly impregnable position which was only slightly challenged by the recent Leveson Inquiry. Concerted campaigns by the Daily Mirror and the Daily Express (then a left-wing leaning paper) certainly perverted the course of justice by compromising Ward's defence. I found this book most enjoyable and enlightening. I can't say whether the truth lies with Denning's version of with Davenport-Hines's reappraisal, but I do know that a good dose of scandal never goes amiss.
Also by Richard Davenport-Hines | View all