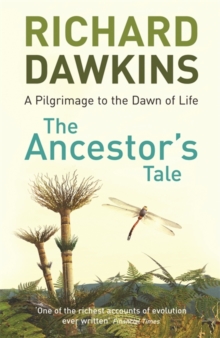 The Ancestor's Tale : a Pilgrimage to the Dawn of Life
Paperback
Description
One of the most brilliant scientists of our age gives us his definitive work: a synthesis of his comprehensive vision of life. THE ANCESTOR'S TALE is a pilgrimage back through time; a journey on which we meet up with fellow pilgrims as we and they converge on our common ancestors.
Chimpanzees join us at about 6 million years in the past, orang utans at 14 million years, as we stride on together, a growing band.
The journey provides the setting for a collection of some 40 tales.
Each explores an aspect of evolutionary biology through the stories of characters met along the way.
The tales are interspersed with prologues detailing the journey, route maps showing joining lineages, and life-like reconstructions of our common ancestors.
THE ANCESTOR'S TALE represents a pilgrimage on an unimaginable scale: our goal is four billion years away, and the number of pilgrims joining us grows vast - ultimately encompassing all living creatures.
At the end of the journey lies something remarkable in its simplicity and transformative power: the first, humble, replicating molecules.
Information
Format: Paperback
Pages: 704 pages, 65
Publisher: Orion Publishing Co
Publication Date: 01/09/2005
Category: Popular science
ISBN: 9780753819968
Free Home Delivery
on all orders
Pick up orders
from local bookshops
Reviews
Showing 1 - 5 of 6 reviews.
Previous | Next
Review by elmyra
16/06/2015
This is what high school biology *should* be like! Biology is really not taught as a science at that level, with theories, and hypotheses, and the underlying theme of evolution. Instead, we spent years memorising and regurgitating useless facts about various animals, some more interesting than others; but there was always something missing - it was always just facts, without a guiding theme or overall connection. Dawkins gives us the facts, alright - but he does so with a purpose, around the central theme of evolution, showing how life on earth is all interconnected, and that's what really makes the subject fascinating. Suddenly, biology *makes sense*! There's a story to go with the facts, and that story makes the previously meaningless collection of data seem absolutely amazing, revolutionary and eye-opening! It certainly helped me for the first time really appreciate both the complexity and interconnectedness as well as the pure awesomeness of life on earth.Obviuosly, what with Professor Dawkins being a zoologist, the book is heavily focused on animals, and as the "journey" starts with humans, a lot of the book is devoted to vertebrates. I would happily read another book that size about exciting things like insects, invertebrates and plants!
Review by reading_fox
16/06/2015
A detailed look at evolution and the history of animal life of Earth. The style is modelled on Chaucer's Canterbury tales. For reasons's that become clear Dawkins, retraces the ancestors of the human specis through a series of "Concestors" - a species that was alive and whose descendants evolved into different branches of "the tree of life" the style is very clear, without use of overly complicated termiology - resulting in at times a simplistic overview, though this is usually acknowledged.Because the initial lineage chosen is human, the drawback to this journey is that several major groups diverged from us so long ago, that entire interesting groups are given only a page or two's treatment. The entire plant kingdom gets only a chapter. Various nominated species are chosen at each concester point to give Tale - and like Chaucer's original work - each tale has a point, not necessarily on evolution, some worthy commentary on the accompanying science, assumptions etc are made. Unfortunetly the science of dating the various records is left until the Redwood's tale, more than 3/4 of the way through the book. Some of the personal commentary from dawkins is more belivable, and given more evidence, than others. Sometimes he states his opinion is contentious, but in my view, there is room for more doubt than he sometimes credits. Overall it is a worthy tour through the history of the animal kingdom, back to the origin of single celled entities at the dawn of time - but missing much detail that could be covered. A useful reference rather than a detailed guide.
Review by Mandsb
16/06/2015
Although I understood the concept of evolution prior to reading this book, I now feel like my brain has been wrenched open and I have whole new, much deeper and broader understanding of how it all worked. This book changed the way I think. It is so well constructed and written that it taught me more about science than six years at high school. This book should be on everyone's must read list.
Review by leovanha
16/06/2015
Evolution told as a journey from human to the origin of life. Written in a beautiful way it gives a catching view of life and how biology investigates it.
Review by shanaqui
16/06/2015
I love this book. It's not the kind of thing I usually read, because I prefer fiction to non-fiction by far, at least when I have a choice about it. And I really, really loathe Dawkins' The God Delusion, largely because of the tone he takes toward people who are religious believers. But The Ancestor's Tale is mostly just science, and it's written in an accessible, almost conversational way. It actually has literary ancestors (ha), in the form of The Canterbury Tales, which Dawkins chose as his format to tell the tale of a pilgrimage through history to find our ancestors. He does slip in some references to his own beliefs, but here they aren't too offensive or intrusive.<br/><br/>When I say 'accessible', I don't mean 'dumbed down'. The science and maths and the theory and the sheer detail is here. I read a couple of reviews that people found it boring once it got to a certain point because there's 'too much detail' about things like bacteria. Which I think is more of a 'your mileage may vary' attitude than anything -- I think Dawkins gave the space to the bacteria that they deserve, all things considered.<br/><br/>There's a lot of speculation in here, too -- but so much of science is speculation. Dawkins is fairly clear about when he can and can't 'prove' things, and explains the methods by which they can be proved if they can. You don't have to have a huge knowledge of science or maths to understand -- some, and an interest in it, I suppose, but not so very very much.