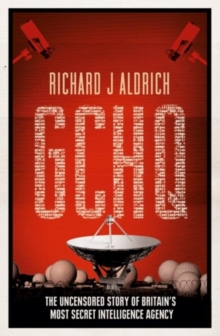 GCHQ: The Uncensored Story of Britain's Most Secret Intelligence Agency
Paperback
Description
As we become ever-more aware of how our governments "eavesdrop" on our conversations, here is a gripping exploration of this unknown realm of the British secret service: Government Communication Headquarters (GCHQ).
GCHQ is the successor to the famous Bletchley Park wartime code-breaking organisation and is the largest and most secretive intelligence organisation in the country.
During the war, it commanded more staff than MI5 and MI6 combined and has produced a number of intelligence triumphs, as well as some notable failures.
Since the end of the Cold War, it has played a pivotal role in shaping Britain's secret state.
Still, we know almost nothing about it. In this ground-breaking new book, Richard Aldrich traces GCHQ's evolvement from a wartime code-breaking operation based in the Bedfordshire countryside, staffed by eccentric crossword puzzlers, to one of the world leading espionage organisations. It is packed full of dramatic spy stories that shed fresh light on Britain's role in the Cold War - from the secret tunnels dug beneath Vienna and Berlin to tap Soviet phone lines, and daring submarine missions to gather intelligence from the Soviet fleet, to the notorious case of Geoffrey Pine, one of the most damaging moles ever recruited by the Soviets inside British intelligence.
The book reveals for the first time how GCHQ operators based in Cheltenham affected the outcome of military confrontations in far-flung locations such as Indonesia and Malaya, and exposes the shocking case of three GCHQ workers who were killed in an infamous shootout with terrorists while working undercover in Turkey.
Today's GCHQ struggles with some of the most difficult issues of our time.
A leading force of the state's security efforts against militant terrorist organisations like Al-Qaeda, they are also involved in fundamental issues that will mould the future of British society.
Compelling and revelatory, Aldrich's book is the crucial missing link in Britain's intelligence history.
Information
Format: Paperback
Pages: 448 pages
Publisher: HarperCollins Publishers
Publication Date: 01/07/2011
Category: Espionage & secret services
ISBN: 9780007312665
Free Home Delivery
on all orders
Pick up orders
from local bookshops
Reviews
Showing 1 - 1 of 1 reviews.
Review by reading_fox
16/06/2015
A UK centred (although not exclusive) history of Signals Intelligence from the 2nd world war through to the current day. Initially slow it becomes more interesting later on as the timeline catches sup with events that are of recent relevance. At times it is somewhat repetitive, and frequently features lists of names and dates that are not interesting, there is much input from American sources, nothing at all on the more active human intelligence side. Also suffers from a hammer problem - everything is seen solely through the lens of sigint, which sometimes leads to exaggerated claims of its own importance. However later chapters covering the Iraq War and the rise of the Internet are of interest to anyone who has an interest in public affairs. It goes a little way into explaining why the 'Intelligence' services failed to predict several notable conflicts but the sucesses that were prevented are much harder to elucidate. The book is well referenced and compiled from 'open sources' - government documents that were declassified and released to the public archives. The author chose not to include interviews with serving officers so there are no contraventions of the Official Secrets Act. - Although according to the author during his promotional lecture circuit he was deliberately evasive in publishing times so that the government were too slow to censor anything. All the sources are available to be read by anyone who has the patience to trawl through the vast vast volumes in search of the nuggets that perhaps GCHQ would have proffered not to have had released. It took the author 10 years to write. The general structure is a look at how GCHQ evolved, from the early Bletchly Park WWII years, through the decades in turn. There is some degree of jumping about, and points (and at times sentences) from one decade are repeated in the next. There is not an over-guiding narrative, which makes it a quite bitty to read, A few key incidents from each decade are analysed for how they affected the general focus of GCHQ's activities. It is quite clear that the USA provided a lot of direction for GCHQ's activities even though originally GCHQ was the innovative partner in the relationship. The other key activity was the degree to which GCHQ limited access to their output. This made quite a lot of difference to whether or not GCHQs work was actually useful. In many cases important information was received by one hand, but never understood or disseminated to the other. The author does attempt to explain how this could happen, and generally does s in an impartial manner leaving it to the reader to decide if it was a good idea or not. There are several interesting facts, and a good explanation of some areas of recent history, but overall it is somewhat slow and complicated exploration of an area that obviously has a lot more interesting stories still to tell.