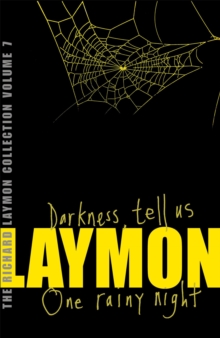 The Richard Laymon Collection : Darkness Tell Us & One Rainy Night v. 7
Paperback
Description
DARKNESS, TELL US It starts at an end-of-term party.
Six college kids and a Ouija board. The board that Professor Coreen Dalton had hidden at the back of a cupboard and sworn never to touch again - not after Jake's death. And now here are these kids falling for the revelations of a spirit called Butler, swallowing it's promise of a fortune hidden in the mountains.
Not that Corie believes they would be stupid enough to head off in to the wilderness on the say-so of a child's plaything.
To embark on a two-day hike into the unknown where any foul danger may lie in wait to cut and slice and tear them limb from limb.
But then, professor or not, Corie could be wrong...ONE RAINY NIGHT The water drops like a shroud on the town of Bixby.
Warm, viscous and unnatural, it coats the inhabitants in an unending torrent - and turns them into crazy, hate-filled maniacs.
A helpful stranger at a gas station shoves a petrol pump down a customer's throat and squeezes the trigger.
A soaking-wet queue of cinema-goers smashes its way inside the movie house to slice up the dry people within. A loving wife attacks her husband, bouncing the back of his head on the marble floor until it sounds like sloppy wet meat...
Information
Format: Paperback
Pages: 768 pages
Publisher: Headline Publishing Group
Publication Date: 04/09/2006
Category: Horror & ghost stories
ISBN: 9780755331741
Free Home Delivery
on all orders
Pick up orders
from local bookshops
Reviews
Showing 1 - 1 of 1 reviews.
Review by AdonisGuilfoyle
16/06/2015
I remember reading this horror novel when I was about twelve years old, which is probably actually the right age to get pulp fiction from the likes of Richard Laymon and Stephen King out of your system. Even though elements of the story have stuck in my mind ever since, and I think I first learned about ouija boards from this book, I spent most of the time rolling my eyes during my (thankfully brief) re-reading of <i>Darkness Tell Us</i>.First of all, Howard, the supposed hero of the hour, if there is one, is a creep. A sex-obsessed, self-centred, drivelling wimp, who spends the whole novel fantasising about what women look like naked, staring at cleavages and VPLs, even when the objects of his perversion are in danger or upset. For example:<i>'Feeling guilty, he looked away and watched her spread the lotion up and down her long, slim legs. He wished he could be the one rubbing it onto her. Then he pictured Skerrit crouching in front of her, leering as he slathered hot ointment onto her legs and up between them.Dirty, rotten b*****d!She's got me, now. She'll never have to let that old pervert touch her again.'</i>That's right, his girlfriend Angela, who he only looked twice at when she was told by the ouija board to strip off her blouse, jumps straight out of a lifetime of abuse into the proverbial fire: pairing off with a slimy, lecherous little boy, who still lusts after his teacher and the girlfriend of another guy, even when he has supposedly 'fallen in love' with Angela. Gag.Secondly, I have a sneaking suspicion that Howard is merely an author-insert, because I recall Laymon's other novels being similarly depraved and infantile. The plot is nothing more than a modern penny-dreadful, full of naked women, gory violence and ill-advised camping trips. Six grad students set off into the woods after hijinks with a ouija board, but randomly find themselves prey to a musclebound psychopath and a family of sex pests and serial killers living in the wilderness. The writing is puerile, full of schizophrenic introspection and moronic dialogue, and every other page contains a sex scene. Still, the pages fly and the whole bizarre episode is wrapped up rather prematurely with a high body count and only two surviving couples (the most annoying two).Read for an entertaining laugh, but save your money and shelf space!