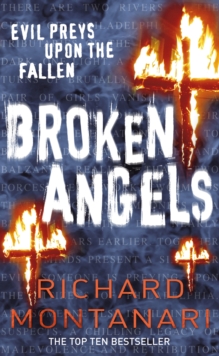 Broken Angels : (Byrne & Balzano 3) the Third Spell-Binding, Unputdownable Thriller in the Byrne and Balzano Series from the Sunday Times Besteller
Paperback
Description
When the first body is found, mutilated and strangled on the riverbanks, Philadelphia homicide detectives Kevin Byrne and Jessica Balzano suspect yet another case of random urban violence.
Then it happens again. And again. Carefully dressed and posed, each victim seems to tell a story so gruesome that Byrne and Balzano struggle at first to make sense of the killer's dark and twisted imagination.
But when they stumble upon a collection of old fairy tales, the fragile link between the murders suddenly becomes clear - and with it the terrifying conclusion of the killer's plan.
Desperately, they try to anticipate the madman's next move, but as the body count rises, the killing spree spirals out of control ...
Information
Format: Paperback
Pages: 528 pages
Publisher: Cornerstone
Publication Date: 14/02/2008
Category: Crime & mystery
ISBN: 9780099499824
Free Home Delivery
on all orders
Pick up orders
from local bookshops
Reviews
Showing 1 - 3 of 3 reviews.
Review by leperdbunny
16/06/2015
Title: Merciless/ Broken AngelsAuthor: Richard MontanariGenre: Mystery, Thriller# of pages: 300Start date:End date: 5/22Borrowed/bought: borrowedMy rating of the book, F- [worst] to A [best]: B+Description of the book: A female victim is found facing the river at an old abandoned building, in an old fashioned dress with her feet and shoes severed off. Byrne and Balzano begin to find more victims in similar situations with their posed bodies and dress similar to fairytales.Review: Awesome followup! A great storyline with the fairytale twist. Montanari does a great job in describing the people and scenery in Philly. If you enjoy murder mystery/detective series, don't miss out on this series. I hope the author writes more.
Review by liehtzu
16/06/2015
A really good cop thriller with classic hard bitten detectives. He makes wonderful use of Philly and its environs to create a memorable whodunnit with all the macabre elements needed to raise the hairs on the back of you neck. For a guy with an Italian name he sure knows the Philly Irish.
Review by eleanor_eader
16/06/2015
The third in the Kevin Byrne / Jessica Balzano series; by now I know to expect plenty of hard police work shoring up plot-twists and digressions, and I wasn't disappointed. In this instalment, people are dying according to some psychopath's inner need to recreate scenes from fairy tales and fables. This recreation of tableaux is a recurring theme with Montanari, who artfully makes it fresh and distractingly gruesome every time.Although most of the book (particularly the partnership between Byrne and Balzano) is more sleekly written than the previous two, this time the italicised voice of the perpetrator could have been dropped without a glitch in the atmosphere or story (in the previous two books, this device added a lot of <i>creep</i>). The introduction of a younger (Amish!) detective provided some amusement in the frustratingly-waiting-for-the-leads-to-come-together portion of the book, and this section is so drawn out that it's almost like a real-time investigation. You don't know anything until you know everything.Even more riveting than the primary plot-line, is Byrne's personal trauma du jour. The man who wants to take him out, and his motives, are beautifully rendered, and timed to perfection. I can't help but wonder if it was included as a snap at anyone *guilty cough* who felt that the revenge-against-cops scenario had been overused over the last two books, but it works much better as a sub-plot than a relied-upon-motive.These books were easy to read, enjoyable, hard-working crime fiction. Not my favourite in the genre, but I'm happy to have stumbled across them.In the 'random things that amuse me' category, I note that the cover of my paperback copy (Arrow Books) is hilariously irrelevant to the story, more so even than the generic 'no one can hear you scream' on <i>The Skin Gods</i>. <i>Broken Angels</i> (a title that doesn't exactly get to the heart of the story either, but keeps the three titles tidily religious), has pictures of burning crosses (for a plotline that uses fables and fairy-tales in its murder scenarios) and the tagline 'Evil preys upon the fallen'. The immediate, unavoidable conclusion, is that they had a unused back-up cover design for <i>The Rosary Girls</i> going spare. And the award for 'lack of effort in publishing' goes to…
Also in the Byrne and Balzano series | View all