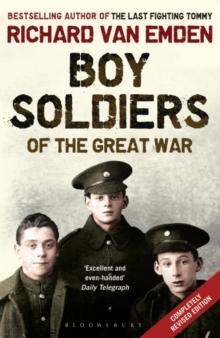 Boy Soldiers of the Great War
Paperback
Description
The youngest soldier who fought in the Great War is believed to have been just twelve years old.
Many thousands of other boys are known to have faked eye tests, inflated their small chests and stood on tiptoes to bluff their way into a war of unforeseen horror.
How and why so many under-aged boys were able to get to the battlefields is a complex mystery of World War I, and until Richard van Emden's classic account, largely unexplored.
Boy Soldiers of the Great War tells for the first time the incredible stories of the boys who went to fight for their country.
Richard van Emden, having amassed a unique collection of personal testimonies and hitherto unpublished diaries and letters, brings to life their stories of heroism and sacrifice.
This edition has been completely revised and updated.
Information
Format: Paperback
Pages: 416 pages
Publisher: Bloomsbury Publishing PLC
Publication Date: 08/11/2012
Category: British & Irish history
ISBN: 9781408824726
Free Home Delivery
on all orders
Pick up orders
from local bookshops
Reviews
Showing 1 - 2 of 2 reviews.
Review by edwardsgt
16/06/2015
Excellent collection of the little known stories of the many under age recruits who rushed to volunteer at the outbreak of WWI and even subsequently when more was known about the horrific conditions in the trenches.
Review by john257hopper
16/06/2015
This is a fascinating and well-researched account of the very large number of boy soldiers who fought and in many cases died during the First World War. It focuses on those who were boys by the military standards of the time, which said that no one under the age of 19 should be fighting overseas (in this context it is worth remembering that the age of majority at this time and for over fifty years afterwards was, of course, 21). During the early years of the war, the rule was routinely breached, as boys as young as 13 (in the extreme case of George Maher) enlisted, though the majority of underage boys enlisting were 16-17. They were motivated by a mixture of feelings: patriotism; peer pressure or guilt at not doing their bit; the bravado of extreme youth; the desire for adventure and excitement; or a simple escapism from humdrum everyday life - many recruits from poor backgrounds had a much better diet, exercise and a sense of purpose in the army. So how were they able to get away with enlisting so young, when it must have been obvious in many cases that they were not the age they claimed to be? A combination of reasons - simply lying so they could fulfill one or more of the motivations above, especially with boys who were strong or tall; manpower shortages in the pre-conscription phase meaning that anyone willing to fight and not obviously decrepit was not turned away; combined with the perverse incentive caused by the bonus that recruiting sergeants and doctors conducting medical examinations received for every recruit admitted. Due to public and Parliamentary pressure (especially from the Liberal MP Sir Arthur Markham), the rules were gradually better enforced, so that those underage were not sent to fight, and those underage boys already out fighting were removed from the front line and kept in reserve in the rear until they were old enough; but these rules were still often flouted, partly because the flow of volunteers was erratic and would sometimes decline after news of appalling losses reached Britain (though it would rise again on occasions such as the sinking of the Lusitania or the execution of Edith Cavell. The introduction of conscription in January 1916 changed the situation, though even then many commanders on the spot preferred to keep an underage boy who had proved himself rather than take on a perhaps reluctant conscript. From mid 1917, very few underage boys enlisted as the rules were tightened and better enforced, though during the desperate German Spring offensive of 1918, boys of eighteen years and a few months old had to fight as part of the mighty effort to push the Germans back and ensure final victory.Complete with photos of a number of the boys whose stories are movingly told threaded throughout the generally chronological narrative, this is an excellent book and surely the definitive modern guide to this aspect of the Great War.