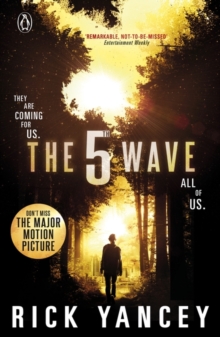 The 5th Wave : Book 1
Paperback
Description
THE 1st WAVE Took out half a million people. THE 2nd WAVE Put that number to shame. THE 3rd WAVE Lasted a little longer. Twelve weeks ...Four billion dead. IN THE 4th WAVE, You can't trust that people are still people.
AND THE 5th WAVE? No one knows. But it's coming. On a lonely stretch of highway, Cassie runs. Runs from the beings that only look human, who have scattered Earth's last survivors.
To stay alone is to stay alive, until she meets Evan Walker.
Beguiling and mysterious, Evan may be her only hope.
Now Cassie must choose: between trust and despair, between defiance and surrender, between life and death.
Information
Format: Paperback
Pages: 480 pages
Publisher: Penguin Books Ltd
Publication Date: 07/05/2013
Category: Thrillers (Children's/YA)
ISBN: 9780141345833
Free Home Delivery
on all orders
Pick up orders
from local bookshops
Reviews
Showing 1 - 4 of 4 reviews.
Review by Yogiboo
16/06/2015
Omg! This book was awesome! If it were a film you'd be on the edge of your seat! Crazy good!
Review by AmyJ96
16/06/2015
Recently, I've had a tough time liking the characters in YA books, especially female protagonists, but I actually liked Cassie as well as the majority of the other characters.At the beginning, it reminded me a lot of Ashes by Isla J. Bick (which I also really enjoyed), but I forgot that later on as the story came into its own.It got me hooked from the first few pages and I just flew through it. If you're a fan of apocalypse-type books or just YA in general, you should definitely give this a go.
Review by elliepotten
16/06/2015
This one took a really long time to read, for some reason - a good couple of weeks or so - even though it's really good and quite the page-turner. Anyway, I've had the book for ages, the sequel's on the way, and it's also being made into a film, so it seemed a good time to read it - and I wasn't disappointed. It's a fascinating alien apocalypse story mostly focussing on an isolated survivor called Cassie. Her parents are dead, her little brother has been taken to an army camp somewhere, and Cassie has no idea who are the good guys or the bad guys any more. Instead she is focussing only on her goal of being reunited with little Sam, however dangerous that journey might be. I really enjoyed this; I thought the characters were interesting, the extra-terrestrial invasion was well thought-out and compelling to read, the inevitable love storyline was pleasantly secondary to the wider plot, and the seeds have been sown for a complex and exciting sequel. I hope the second book lives up to the first!
Review by ellsie98
16/06/2015
Also in the The 5th Wave series | View all